Warrior of Reciprocity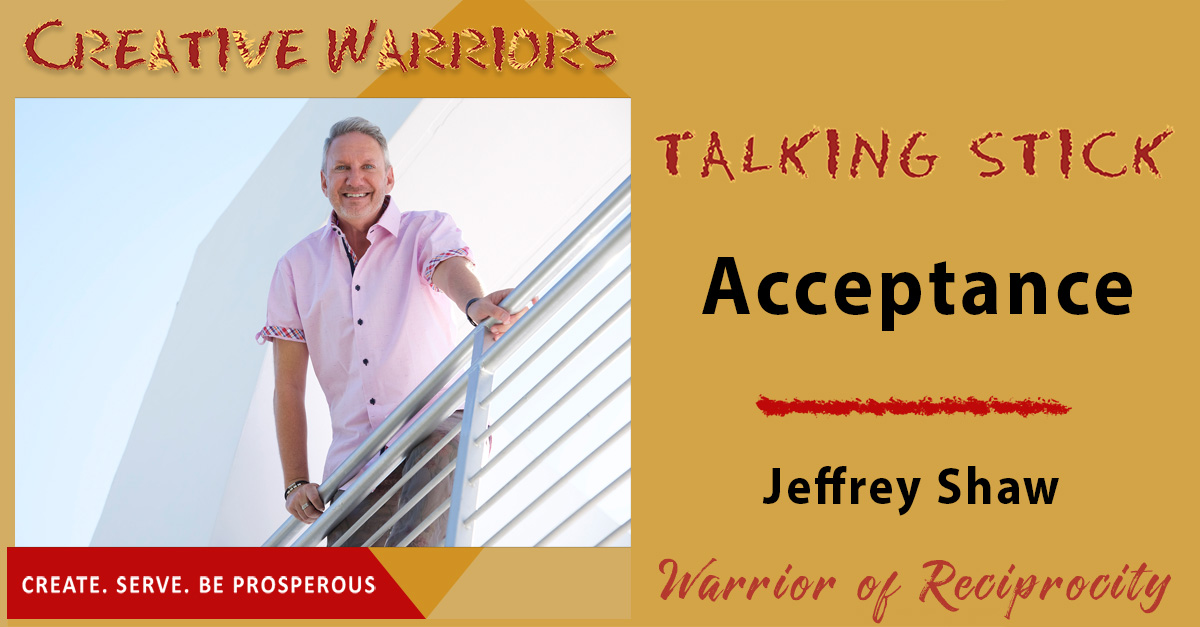 As a prelude to the next episode on Creative Warriors with Jessica Pettitt, I share my thoughts on acceptance and being good enough now. We can often get so critical of ourselves and down about where we're at in our lives, I find the idea of "good enough now" really refreshing. It makes me think about how freeing acceptance is. It is through acceptance and the peace it offers that you are free to change your circumstances. 
The Talking Stick is in your hands now. Let us hear from you.
Be part of the conversation –
Join our community Facebook group, Creative Warriors Unite, at www.joinwarriors.com and share your feelings and continue the conversation.
If you want to apply to be a guest on Creative Warriors Talking Stick, CLICK HERE.
Contact Jeffrey –
Resources –
Have Your Website Brand Message Reviewed!

Is your website and are all your marketing materials speaking the right LINGO of your ideal customers? Often it's not which is why you're not converting traffic and leads to clients and attracting your most profitable customers. Fill out the simple LINGO Review application and I'll take a look at your website. If I have suggestions for you to improve your brand message (I almost always do), we'll set up a complimentary 30-minute call to discuss. A select number of websites are also chosen for my LINGO Review Video Series. Fill out the application today and let's get your business speaking the right LINGO!
Affiliate Links: Disclosure of Material Connection: Some of the links in the post above are "affiliate links". This means that if you click on the link and purchase the item, I will receive an affiliate commission. Regardless, I only recommend products and services I use personally and believe will add value to my readers. I am disclosing this in accordance with the Federal Trade Commission's 16 CFR, Part 255: "Guides Concerning the Use of Endorsements and Testimonials in Advertising."