THE WARRIOR INSIDE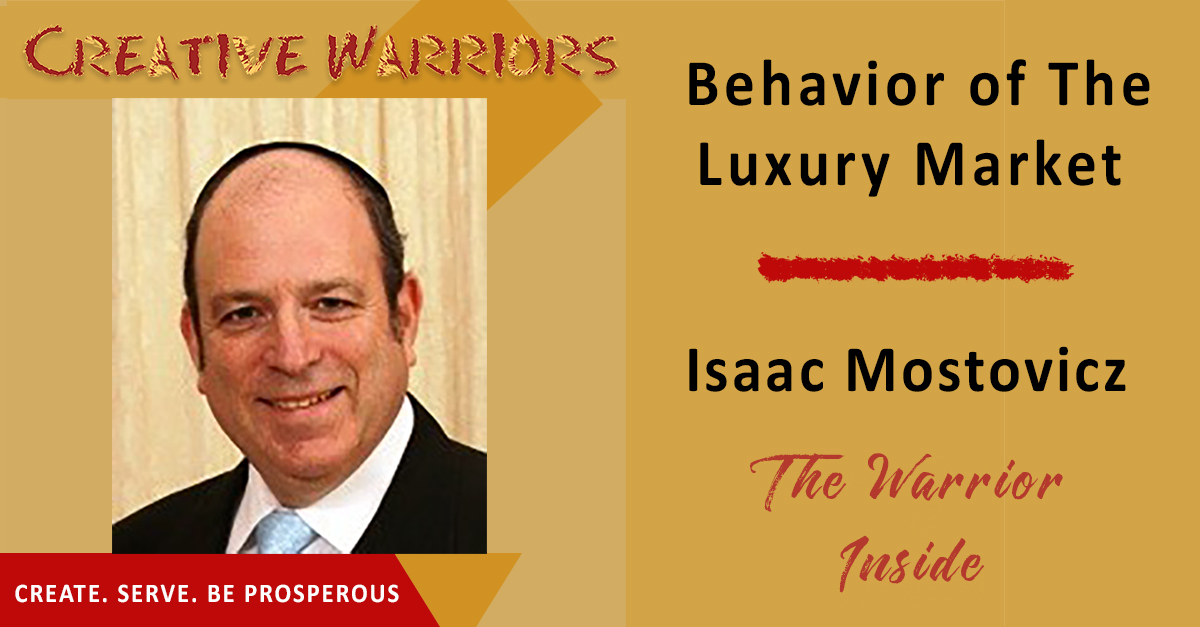 When people come to you to buy something they aren't trying to fulfill a basic need. They may come to you with what sounds like something basic, but it's your job to find and understand the deeper need they are seeking. For example, when I was in the photography industry people weren't just looking for a picture. They were looking for a magical moment. Maybe it's a mother looking at those photos after the children have gone off to college. Perhaps it's a couple looking to preserve the moment they said "I do". No matter what your industry, you need to find that deeper need because chances are even the client won't know what it is.
On this episode of the Creative Warriors podcast we are joined by a master of the luxury industry: Isaac Mostovicz. Isaac found success by mastering the diamond industry. He took his product deeper than anyone else had done before, and really analyzed the end consumer.
Download this episode now to see how you can start not only fulfilling, but exceeding, people's expectation to put you on the top of your industry.
THE WARRIOR INSIDE
"Don't try to show off, just try to understand." -Isaac Mostovicz
Highlights –
What we need at the moment can change in our life.

Luxury is not about what it is, it's about what it does.

Transformation has to come from a luxurious experience.

You can overspend with time and energy, not just money.

Luxury selling is about closing a gap, not tricking people.

A dead-end means there's something in your perception holding you back.

Speak to a deeper need when you are marketing.

Find the needs that people don't know how to ask for.

The greatest act of generosity is taking the time to understand someone's deeper need.

Expense is a reward for the luxurious experience you create.
Guest Contact –
Resources –
12 Must-Have Mindsets for Uncommon Entrepreneurs!

A FREE tool for Creative Warriors to help you get clear on the ways you need to think differently to get the results you want. We've been handed a whole bunch of malarky about who we are and how business works that simply doesn't work for us. It's time to set it straight! This tool will give you the insights you need to think your way to success as a Creative Warrior and keep you on track.

Check out the Creative Warriors RESOURCE page! A collection of the best companies, hand-selected, to help you succeed! You'll find vendors, services, products, and programs to help you Create, Serve, and Be Prosperous! All these companies have been used and approved by Jeffrey and most are used every day in his business.
Affiliate Links: Disclosure of Material Connection: Some of the links in the post above are "affiliate links". This means that if you click on the link and purchase the item, I will receive an affiliate commission. Regardless, I only recommend products and services I use personally and believe will add value to my readers. I am disclosing this in accordance with the Federal Trade Commission's 16 CFR, Part 255: "Guides Concerning the Use of Endorsements and Testimonials in Advertising."