WARRIOR OF COMMUNITY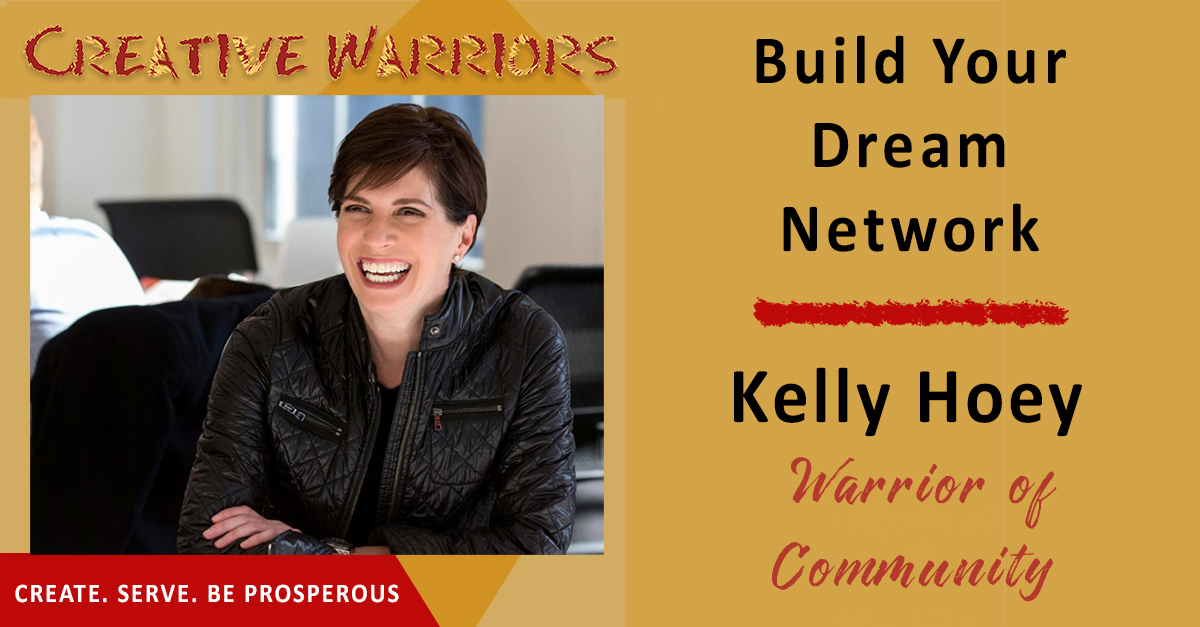 Networking can feel like a chore sometimes, but it doesn't have to! Networking is all about forming connections, problem solving, and growing your reputation. With all the technology and platforms that can be used today to network, we have to utilize our time wisely. Kelly Hoey joins us today to discuss the ins and outs of networking. It's time to get out there!
Kelly Hoey is the author of "Build Your Dream Network." You might have seen Kelly on CNBC's Power Pitch, or her column on inc.com, blogs on myturnstone.com, or Kelly's name on Fast's "25 Smartest Women on Twitter." Prepare to be impressed, and fall in love with Networking, on this week's episode of Creative Warriors!
WARRIOR OF Community
"You have two things in life: your reputation, and your time." -Kelly Hoey
Highlights –
Identify what your goal is when networking, and what you'd like to solve by networking.

Figure out the best way to

connect

with your peers while networking.

Ensure

every

opportunity you have to connect with someone else is

powerful

!

You have

two

things in life: your reputation, and your time.

Many

social platforms we use can be

utilized

as networking platforms, like Twitter!

A "deep network" is where we find advisors or mentors.

It's not who you know, or what you know, it's who knows what you know.

LinkedIn is an

amazing

platform to form connections and network.
Guest Contact –
Resources –
Masterclass: Learn how to attract the RIGHT customers that value what you do and pay you what you're ACTUALLY worth! In the Masterclass, I reveal the one strategy that made me millions so that you can have the business of your dreams and work ONLY with your RIGHT CLIENTS! Click here to register or text Warrior to number 33444 to sign up today.
Check out the Creative Warriors RESOURCE page! A collection of the best companies, hand-selected, to help you succeed! You'll find vendors, services, products, and programs to help you Create, Serve, and Be Prosperous! All these companies have been used and approved by Jeffrey and most are used every day in his business.
Gifts –
Propel your business forward and register for Week of The Warrior for free. A 7-day mini-course to learn how to leverage your creative powers.
Affiliate Links: Disclosure of Material Connection: Some of the links in the post above are "affiliate links". This means that if you click on the link and purchase the item, I will receive an affiliate commission. Regardless, I only recommend products and services I use personally and believe will add value to my readers. I am disclosing this in accordance with the Federal Trade Commission's 16 CFR, Part 255: "Guides Concerning the Use of Endorsements and Testimonials in Advertising."