BE YOURSELF WARRIOR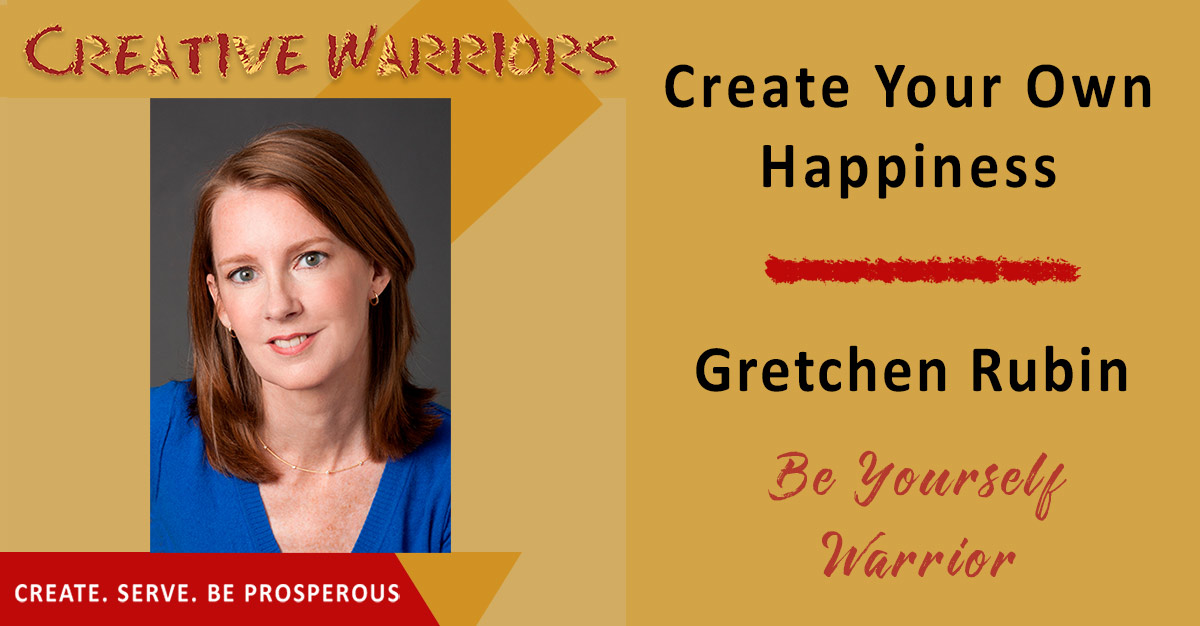 Happiness is a tricky subject. We all want it, and we never feel we have enough of it. So many people feel happiness is something that magically comes into their life from time to time. If you want to be happy, or happier, you have to work at it.
Every now and then we do get lucky, and something comes into our life that bring us joy. We can't and shouldn't count on chance to be happy. There are lots of little things we can all do in order to make us happier. It's important to understand that we can't look to outside forces or other people for a blissful experience. There is only so much we can do to influence others. Instead, get to know and understand your personality type. From there you can lay out a plan to get yourself in the emotional place you want to be.
On this episode of Creative Warriors we are joined by Gretchen Rubin, who has done a year-long happiness study. She helps us identify the four types personality types, and how they work so we can better understand ourselves and the people around us.
Download this episode today to get yourself on the path to happiness.
BE YOURSELF WARRIOR
"With your conscious thoughts and actions what are the things that you can do that can affect your happiness?" -Gretchen Rubin
Highlights –
You have to be true to yourself.

Happiness doesn't just happen, it's something you have to work for.

Break down the things that you really want.

The only person you can change is yourself.

Analyze what it is that's making you unhappy in order to come up with a solution.

Relationships are a key to happiness.

Reframing a situation can completely change your happiness within it.

When you understand the four personality types you'll know how to motivate yourself better.

Don't try to change your tendencies, learn to adapt to them.
Guest Contact –
Resources –
12 Must-Have Mindsets for Uncommon Entrepreneurs!

A FREE tool for Creative Warriors to help you get clear on the ways you need to think differently to get the results you want. We've been handed a whole bunch of malarky about who we are and how business works that simply doesn't work for us. It's time to set it straight! This tool will give you the insights you need to think your way to success as a Creative Warrior and keep you on track.

Check out the Creative Warriors RESOURCE page! A collection of the best companies, hand-selected, to help you succeed! You'll find vendors, services, products, and programs to help you Create, Serve, and Be Prosperous! All these companies have been used and approved by Jeffrey and most are used every day in his business.
Affiliate Links: Disclosure of Material Connection: Some of the links in the post above are "affiliate links". This means that if you click on the link and purchase the item, I will receive an affiliate commission. Regardless, I only recommend products and services I use personally and believe will add value to my readers. I am disclosing this in accordance with the Federal Trade Commission's 16 CFR, Part 255: "Guides Concerning the Use of Endorsements and Testimonials in Advertising."