WARRIOR OF PATIENCE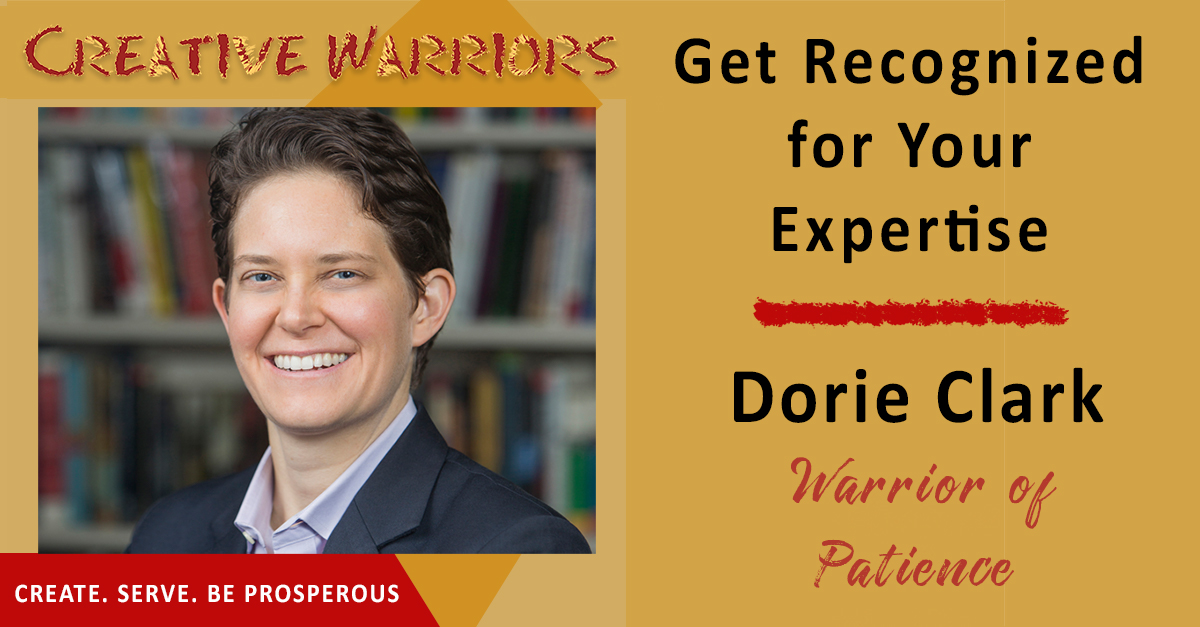 It's time to get out there! It takes a lot of time, and a lot of effort to become an impressionable thought leader. How does one get there, though? What steps does it take to achieve recognition and social proof in your field of expertise? It's time to get recognized for your expertise! Dorie Clark joins us today to tell us exactly how.
Dorie Clark is the author of "Reinventing You," and "Stand Out." Sound familiar? It might be because "Stand Out" was named the number one leadership book of 2015 by Inc. Magazine, as well as a Washington Post best seller! Dorie is also a frequent contributor to the Harvard Business Review, and without name dropping, she is a consultant and speaker for big name clients! Not impressed yet? Dorie is also a grammy nominated jazz producer AND has a new book on the way, expected to be released in October 2017.
WARRIOR OF Patience
"To gain recognition as a thought leader, you must gain social proof, a network, and content." -Dorie Clark
Highlights –
Be

ready

for the moment where luck meets opportunity!

Don't

just

play to your strengths, you also have to shore up your weaknesses.

Have a

proactive

orientation.

We

often

hesitate to prioritize people in our network.

DON'T

!

If you are not aware of who is important to your business, it is a

serious

disadvantage.

Share your ideas with the world.

We are in a knowledge working economy.

Creating content is a tangible way to share with people your take on the world.

If you stand out effectively, you become a

recognized

expert.
Guest Contact –
Resources –
Masterclass: Learn how to attract the RIGHT customers that value what you do and pay you what you're ACTUALLY worth! In the Masterclass, I reveal the one strategy that made me millions so that you can have the business of your dreams and work ONLY with your RIGHT CLIENTS! Click here to register or text Warrior to number 33444 to sign up today.
Check out the Creative Warriors RESOURCE page! A collection of the best companies, hand-selected, to help you succeed! You'll find vendors, services, products, and programs to help you Create, Serve, and Be Prosperous! All these companies have been used and approved by Jeffrey and most are used every day in his business.
Gifts –
Propel your business forward and register for Week of The Warrior for free. A 7-day mini-course to learn how to leverage your creative powers.
Affiliate Links: Disclosure of Material Connection: Some of the links in the post above are "affiliate links". This means that if you click on the link and purchase the item, I will receive an affiliate commission. Regardless, I only recommend products and services I use personally and believe will add value to my readers. I am disclosing this in accordance with the Federal Trade Commission's 16 CFR, Part 255: "Guides Concerning the Use of Endorsements and Testimonials in Advertising."