Not taking things personally WARRIOR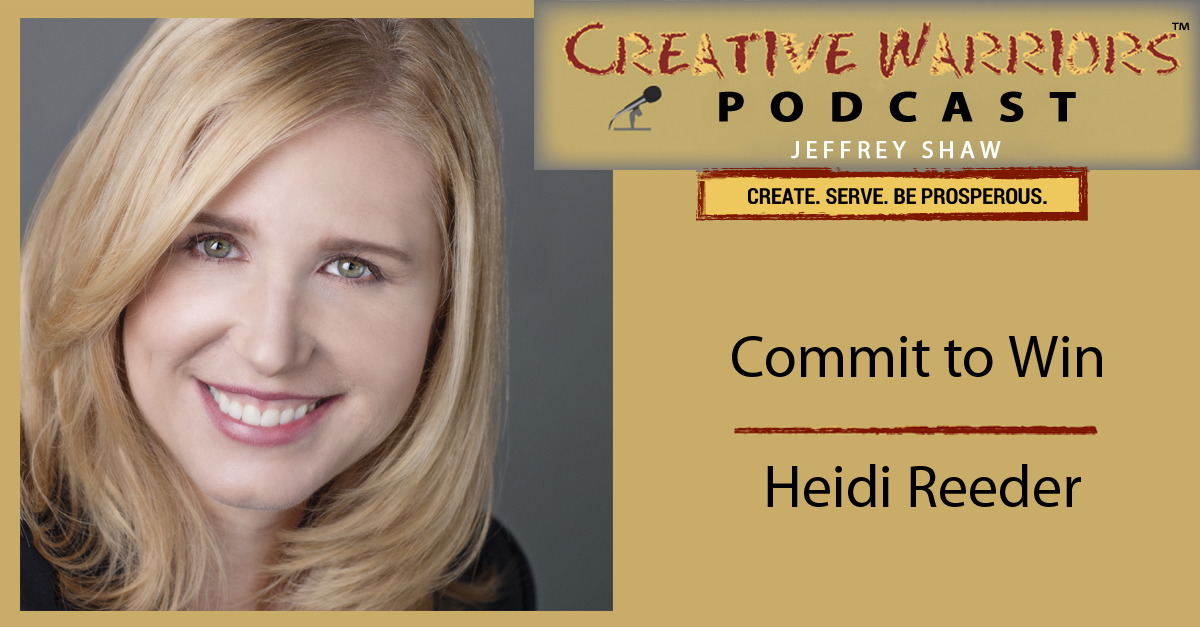 Of course as a Creative Warrior you are passionate about what you do. But are you committed to it? Are you committed to doing something with it? Are you committed to seeing your big dream become your reality? Are you committed enough to make it through the tough times? Today we're talking about being Committed To Win!
Dr. Heidi Reeder is the author of Commit to Win: How To Harness The Four Elements of Commitment To Reach Your Goals. She's an expert blogger for Psychology Today. Heidi holds degrees in Communication from the University of Oregon, Stanford University, and Arizona State University and has authored articles for leading communication and social psychology journals. As a Carnegie Foundation award-winning professor at Boise State University, Heidi serves as the Director of the Leadership and Human Relations Certificate program in the College of Innovation and Design.
Today's conversation was fantastic and will offer you a different perspective along with lasting insights.
Not taking things personally WARRIOR
"Without commitment, goals are mere dreams."
-Heidi Reeder
Highlights –
The 2 forces behind commitment

Using the commitment equation to gain clarity

Intrinsic and extrinsic factors of commitment

Are you a satisfizer or maximizer?
Resources –
Zoho Books want you to spend less time on paperwork! Quickly collect payments from customers, file and pay taxes on time with minimum hassle so you can spend your time growing your business. Zoho Books is an online accounting software that keeps your finances in order easily getting you ready for tax time. With Zoho Books, everything is ready for your accountant in advance by automating routine tasks and more importantly, get paid on time! Go to zohobooks.com/warrior and get 3 months of free, unlimited access to all the features in Zoho Books.

Acuity Scheduling
Client scheduling a crazy hot mess? Don't hate. Integrate! Acuity automates your appointments, cancellations, reminders & even payments with one(non-frustrating) click. No more back and fourth, missed meetings, no shows or multiple calendars to manage! Get your special 45-days free trial(typically 14 days) here.

Grammarly
Getting your point across in business can be tricky.

Grammarly

uses a browser extension to check your text for spelling and grammatical errors anytime you write something online to help you avoid mistakes in comments, tweets, and status updates. Get access to your own personal editor 24/7!

Free Webinar




I'll be sharing how to leverage your creative side and use it as an advantage in business. Join me for my free webinar, How To Succeed In Business Marketing Yourself and Your Talent.

Register here

or text warrior to number 33444 to unleash your creative thinking to propel your business forward.
Guest Contact –
Mentions –
Gifts –
Check out Creative Warriors Gifts Page where you can grab free gifts from guests.
Affiliate Links: Disclosure of Material Connection: Some of the links in the post above are "affiliate links". This means that if you click on the link and purchase the item, I will receive an affiliate commission. Regardless, I only recommend products and services I use personally and believe will add value to my readers. I am disclosing this in accordance with the Federal Trade Commission's 16 CFR, Part 255: "Guides Concerning the Use of Endorsements and Testimonials in Advertising."