THE WARRIOR OF SYSTEMS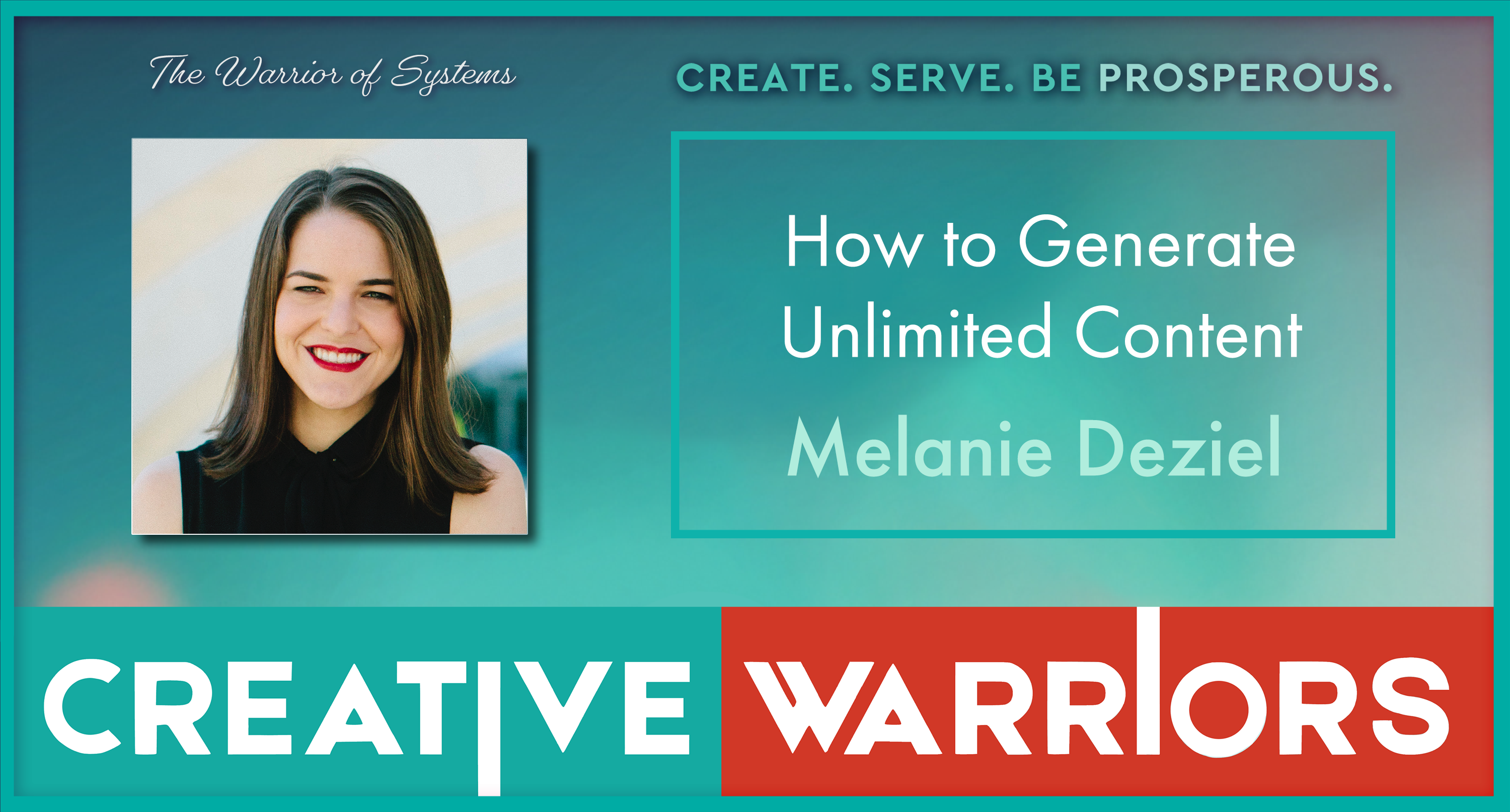 I'll admit, as someone who is constantly creating content, I'm often overwhelmed by it. But it is a topic that frequently comes up in my client sessions and one that is especially relevant right now. At a time when many of us are home and working on sharing more content with the world, it is important to make sure that what we create still has a purpose.
With all the formats available to us now, how can we get our message out, support our business, and still keep ideas fresh, new, and interesting? Most people gravitate to formats they're most comfortable in. I, for one, much prefer audio over writing. So how can we Creative Warriors stretch ourselves and not just benefit from unfamiliar formats, but feel confident in them, too? 
To help us dig into how to tap into unlimited content ideas, I've brought on author, speaker, and online educator, Melanie Deziel.

Melanie Deziel is the founder of StoryFuel, the author of "The Content Fuel Framework: How to Generate Unlimited Story ideas," and an international keynote speaker recognized as one of the world's leading experts in native advertising and branded content. As a speaker, she's taught marketers around the globe to brainstorm better, think like journalists and tell better brand stories. She is a member of the National Speakers Association, and has graced the stages of industry-leading events like Content Marketing World, Native Ad Days, Social Media Marketing World, Inbound, SXSW, and more. 
Melanie believes that with the right framework, everyone is capable of creating unlimited content. To learn how to ignite your story fuel, download this episode now.
THE WARRIOR OF SYSTEMS
"Do the work, before the work." – Melanie Deziel
Highlights –
Guest Contact –
Contact Jeffrey –
Mentions –

Resources –
Sponsor-
Affiliate Links: Disclosure of Material Connection: Some of the links in the post above are "affiliate links". This means that if you click on the link and purchase the item, I will receive an affiliate commission. Regardless, I only recommend products and services I use personally and believe will add value to my readers. I am disclosing this in accordance with the Federal Trade Commission's 16 CFR, Part 255: "Guides Concerning the Use of Endorsements and Testimonials in Advertising."