WARRIOR OF Perspective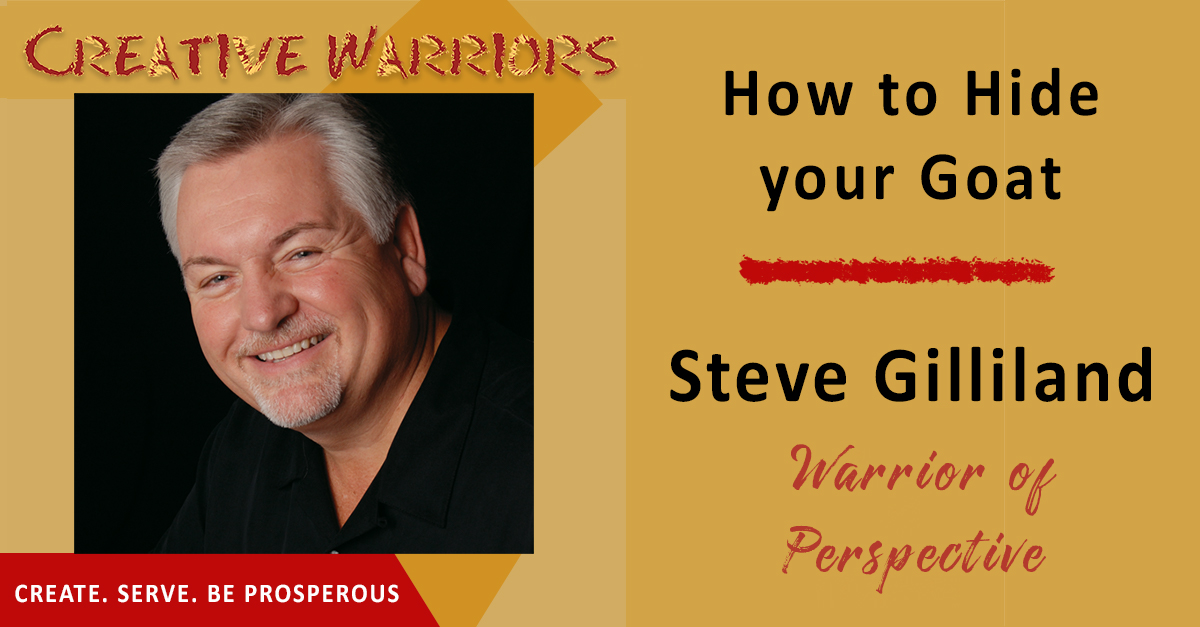 Do you find others pushing your buttons easily, or "getting your goat?" Steve Gilliland joins us today to discuss what it means to "find your goat," and address the characteristics within ourselves that let others push our buttons. It's time to stop wasting energy on daily annoyances and focus on becoming more productive through self management.
Steve Gilliland is a member of the speakers hall of fame, speaking in all 50 states and 15 countries, over the course of 17 years! Steve has written four books, including one on today's topic of discussion "Hide Your Goat." Steve believes when we are all purpose driven, not process driven, we make a greater difference.
WARRIOR OF Perspective
"If we all make the pie bigger, everybody gets a slice." -Steve Gilliland
Highlights –
You have to discover your own goat and what that

means

in regards to yourself.

In order to ease someone "getting your goat," try understanding

their

perspective.

Remember: it's not just about you. "None of us is as smart as all of us."

When handling a negative situation, it begins with

you

.

Worrying

does not let you focus on what is happening

now

.

Worrying is a very destructive behavior; you cannot enjoy the moment if you are spending it worrying.

Teach yourself to

not

listen to skeptics, and instead be content with who and what you are.

Your attitude is contagious. Is your attitude worth catching?
Guest Contact –
Resources –
BlueHost


When it comes to keeping your website and blog online, reliability is one of the most important things. BlueHost is continually ranked at the top as one of the most reliable web servers. They also have servers specific for WordPress sites which is critical to keeping you online and doing business.

Acuity Scheduling




If you want more of your most valuable resource back, automate your calendar with our top pick, Acuity. No more back and fourth, no-shows or multiple calendars to manage. All appointments, reminders, cancellations, even payments happen with 1-click. Acuity helps you gain time! Visit creativewarriorsunite.com/acuity for our offer or click the link in the show notes.

Grammarly


In our fast-paced world, we still need to clearly and confidently communicate what we want to say. Grammarly is our private editor 24/7 checking our spelling and grammar whenever we write something online to help avoid embarrassing mistakes in comments, tweets, and status updates! Grammarly is a Better Way To Write. Visit creativewarriorsunite.com/grammarly for our offer or click on the link in the show notes.

Audible Books


The easiest way I know to get inspired when reading is not an option is with AudibleBooks. You can regain time and transform your commute, workout or chores into fun, productive ME TIME! Audible books are offering a free audio book, try it, like it and stay or cancel and keep your free Audible book. Visit creativewarriorsunite.com/audible for our offer or click on the link in the show notes.

New Free MasterClass:
Warriors, if 80% of your income comes from 20% of your clients, 80% of your clients are the wrong clients! Imagine what it would be like to have almost 100% of your income come from all your clients because you're working with the right clients. Learn how knowing their secret language will attract your RIGHT clients— people who value what you do and are eager to pay you what you're worth. To register for this new masterclass, go to YourRightClients.com, and I'll see you in the masterclass!
Gifts –
Propel your business forward and register for Week of The Warrior for free. A 7-day mini-course to learn how to leverage your creative powers.
Affiliate Links: Disclosure of Material Connection: Some of the links in the post above are "affiliate links". This means that if you click on the link and purchase the item, I will receive an affiliate commission. Regardless, I only recommend products and services I use personally and believe will add value to my readers. I am disclosing this in accordance with the Federal Trade Commission's 16 CFR, Part 255: "Guides Concerning the Use of Endorsements and Testimonials in Advertising."