WARRIOR OF WORDS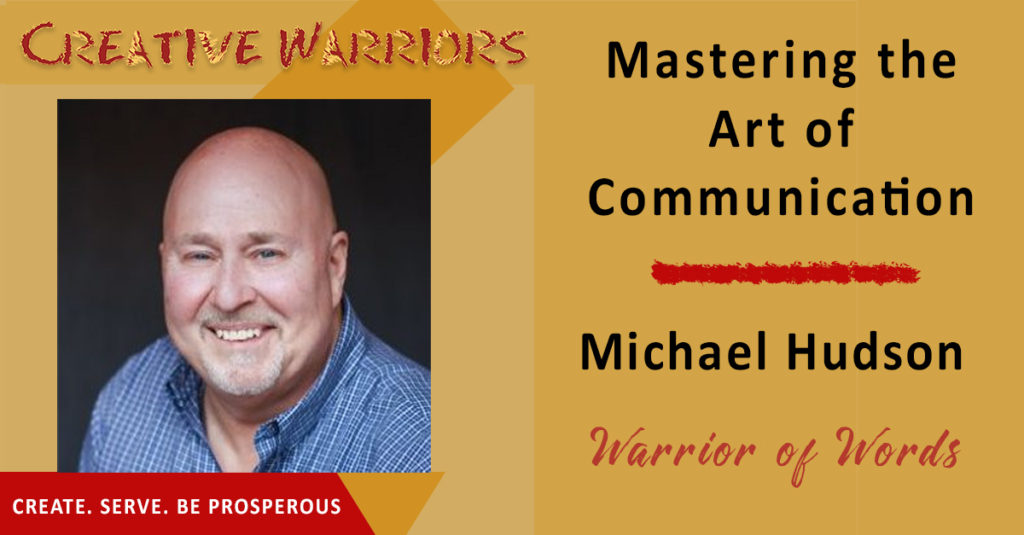 When you're in business all speaking is public speaking. The reality is that whether you realize it or not, every time you have an encounter with someone or a group you are stepping to the front of the room. To be an impactful business person you must master the art of speaking in every situation.
Whether it is one-on-one, in a group, or even in your writing, when your messaging is unclear people will walk away unsure about what it is you actually do. Whenever you are communicating with people it is important to remember that what you're really doing is answering questions.
The best way to make an impact is to keep it simple. Say the words you really want to say. The real goal is to serve your audience – not impress. Share your honest experiences, and you will reach people far deeper than if you try to impress them.
On this episode of Creative Warriors we are joined by Dr. Michael Hudson, who has dedicated himself to mastering the art of communication and public speaking. We are so fortunate to hear his insights on how to conquer fears and start making a real impact.
Download this episode today to learn how you can start becoming the powerful communicator you're capable of being.
WARRIOR OF WORDS
"The story we need to tell is the one we're not talking about." -Michael Hudson 
Highlights –
Make a decision, and make it right.

Think of your environment and hang things on your wall.

We all step to the front of the room in every interaction we have.

Find your tag line.

Start mapping your life and the most significant things that have happened.

Creative people are always suppressed. Accept the chaos.

Trying to impress is a block to simplicity.

Many speakers have thrown up in the bathroom due to nerves!

We devalue what we know, far too much.

If you're a verbal processor you love ideas for the sake of ideas.

We have to take responsibility when we are not heard.
Guest Contact –
Resources –
12 Must-Have Mindsets for Uncommon Entrepreneurs!

A FREE tool for Creative Warriors to help you get clear on the ways you need to think differently to get the results you want. We've been handed a whole bunch of malarky about who we are and how business works that simply doesn't work for us. It's time to set it straight! This tool will give you the insights you need to think your way to success as a Creative Warrior and keep you on track.

Check out the Creative Warriors RESOURCE page! A collection of the best companies, hand-selected, to help you succeed! You'll find vendors, services, products, and programs to help you Create, Serve, and Be Prosperous! All these companies have been used and approved by Jeffrey and most are used every day in his business.
Affiliate Links: Disclosure of Material Connection: Some of the links in the post above are "affiliate links". This means that if you click on the link and purchase the item, I will receive an affiliate commission. Regardless, I only recommend products and services I use personally and believe will add value to my readers. I am disclosing this in accordance with the Federal Trade Commission's 16 CFR, Part 255: "Guides Concerning the Use of Endorsements and Testimonials in Advertising."