WARRIOR of Perseverance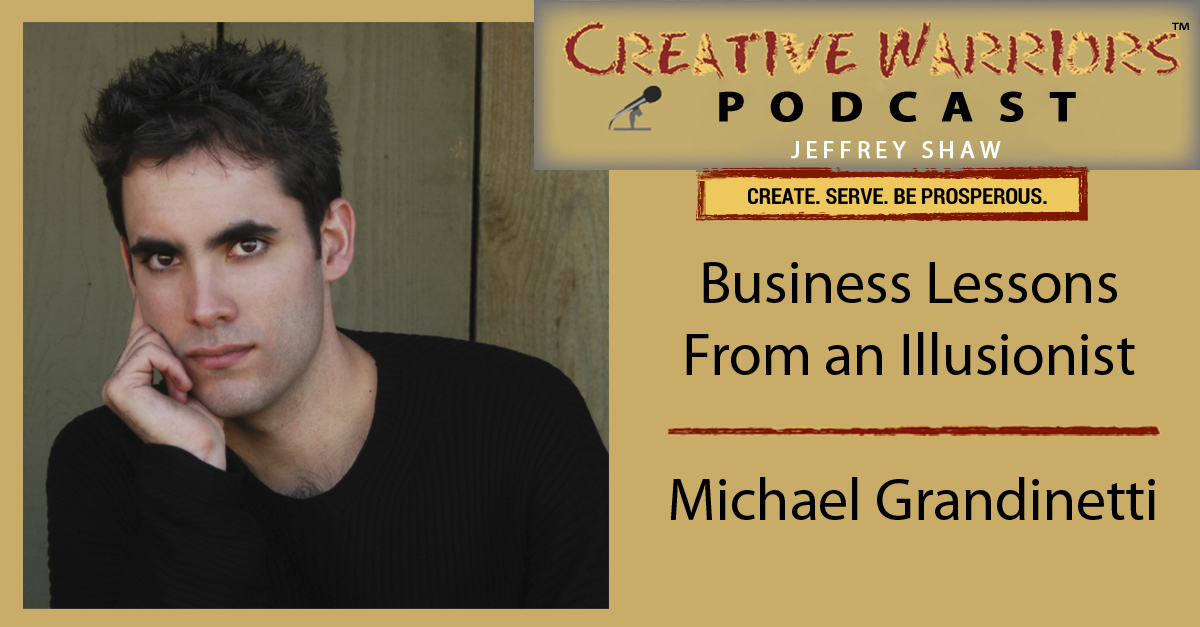 When I imagine what would be one of the most challenging careers and businesses to build no matter how talented you are, magician comes to mind. Today we're speaking with world-renowned magician Michael Grandinetti to find out how he did it and how you too can be successful regardless of your obstacles.
With performances on national and international television, in stadiums, arenas, casinos, and theaters around the country, along with Oscar-winning composers and symphony orchestras, and NFL halftime shows and Fortune 500 companies, Michael Grandinetti has made a global name for himself as an incredibly talented and innovative illusionist and entertainer.
He has starred in NBC's "The World's Most Dangerous Magic", The CW's "Masters of Illusion" series and Pop Network's "Don't Blink" series. He's been featured in FOX's "Bones" series, "Entertainment Tonight," Access Hollywood, "SportsCenter," NBA on TNT,"New York Today," FOX & Friends," and "The Bold and the Beautiful."
Michael was recently honored to be the first illusionist ever invited to perform in the National Independence Day Parade in Washington DC during which he levitated a girl high above one of the floats as it moved down Constitution Avenue while a live audience of 250,000 people lined the streets in amazement.
WARRIOR of Perseverance
"You Don't Know What You Can't Do."
-Michael Grandinetti
Highlights –
Building a business from zero

Exceeding client expectations

4 things every client requires today

The keys to managing a large group

A simple way to never have to live your "plan B."
Resources –
Free Webinar: I'll be sharing how to leverage your creative side and use it as an advantage in business. Join me for my free webinar, How To Succeed In Business Marketing Yourself and Your Talent. Register here or text warrior to number 33444 to register and unleash your creative thinking to propel your business forward.

Getting your point across in business can be tricky.

Grammarly

uses a browser extension to check your text for spelling and grammatical errors anytime you write something online to help you avoid mistakes in comments, tweets, and status updates. Get access to your own private editor 24/7!

Regain time and transform your commute, workout or chores into fun, productive ME TIME! Audible books are offering a free audio book, try it, like it and stay or cancel and keep your free Audible book. Go to

http://www.audibletrial.com/Warrior
Guest Contact –
Gifts –
Are YOU a Creative Warrior? Find out and take the Creative Warrior Assessment for FREE (normally $10).
Check out Creative Warriors Gifts Page where you can check out the free gifts from previous guests.
Affiliate Links: Disclosure of Material Connection: Some of the links in the post above are "affiliate links". This means that if you click on the link and purchase the item, I will receive an affiliate commission. Regardless, I only recommend products and services I use personally and believe will add value to my readers. I am disclosing this in accordance with the Federal Trade Commission's 16 CFR, Part 255: "Guides Concerning the Use of Endorsements and Testimonials in Advertising."