BEN FRANKLIN WARRIOR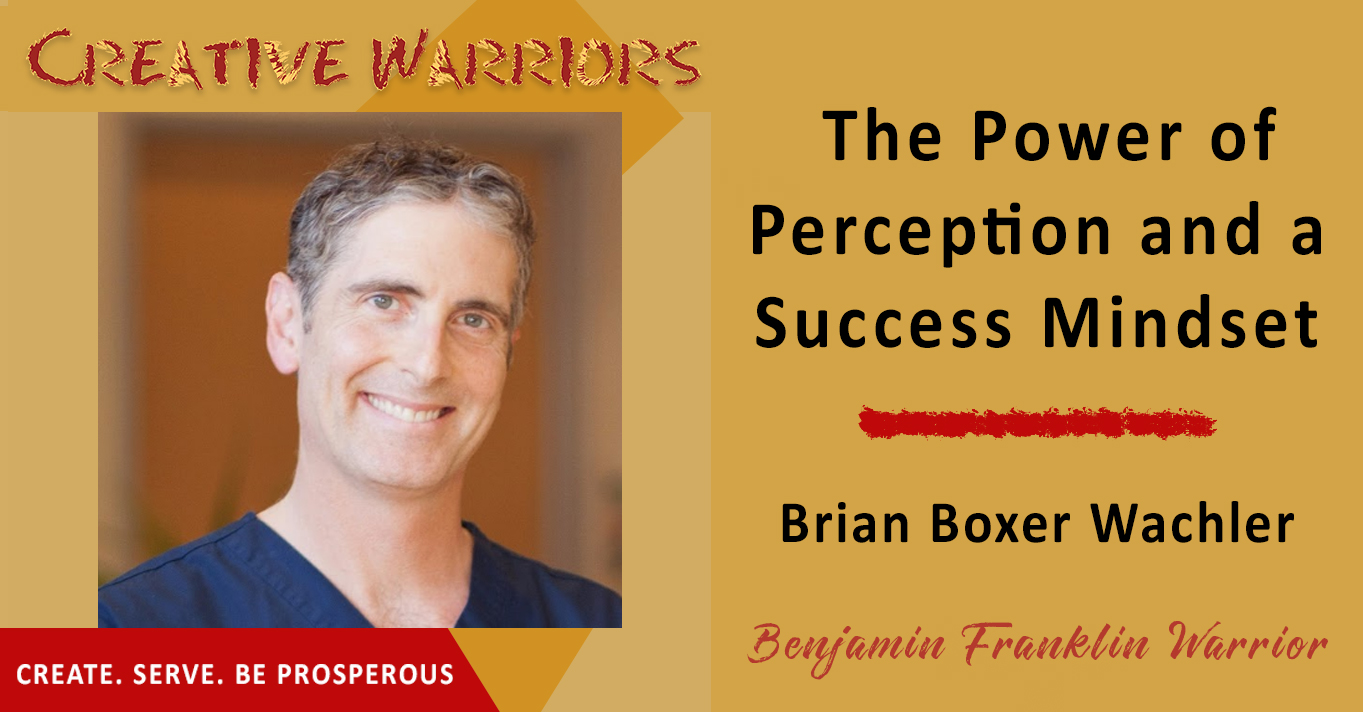 Perception is everything in business. You want people to be able to look at you and your brand, and feel a connection. When a customer feels they know you, what you stand for, and even who you are on a personal level, they will want to be loyal to you. It's often times scary for us to put ourselves out there. As business owners we want to hide behind our business name.
In the end, if you put yourself out there and create a proper perception of yourself, you will attract your ideal customers. When they feel that relationship with you, even though they've never met you, that's when you are able to have pricing elasticity. By that I mean you don't have to compete to the bottom of the price list. People buy your brand for you, and you can charge what you truly deserve to make.
On this episode of Creative Warriors, we are joined by a perception expert – Brian Boxer Wachler. Brian S. Boxer Wachler, MD, or Dr. Brian as his patients affectionately call him, is considered "America's TV Eye Doctor" having appeared on The Today show, The Doctors, Good Morning America, CNN, Extra, as well as many local news channels across the country. Dr. Brian has authored three best-selling medical books, is a WebMD editor and has given 230 scientific talks. He was selected to give a distinguished TEDx talk. As a leading expert on human perception and vision, on October 17th Dr. Brian released his groundbreaking book, Perceptual Intelligence, that is the next wave in deepening our intelligence.
Download this episode today to learn how perception can help your business and client base.
BEN FRANKLIN WARRIOR   
"Personality marketing gives you price elasticity." -Brian Boxler Wachler
My book, LINGO: Discover Your Ideal Customer's Secret Language and Make Your Business Irresistible is now available!
Highlights –
Guest Contact –
Mentions-
Resources –
Affiliate Links: Disclosure of Material Connection: Some of the links in the post above are "affiliate links". This means that if you click on the link and purchase the item, I will receive an affiliate commission. Regardless, I only recommend products and services I use personally and believe will add value to my readers. I am disclosing this in accordance with the Federal Trade Commission's 16 CFR, Part 255: "Guides Concerning the Use of Endorsements and Testimonials in Advertising."