WARRIOR of White-Light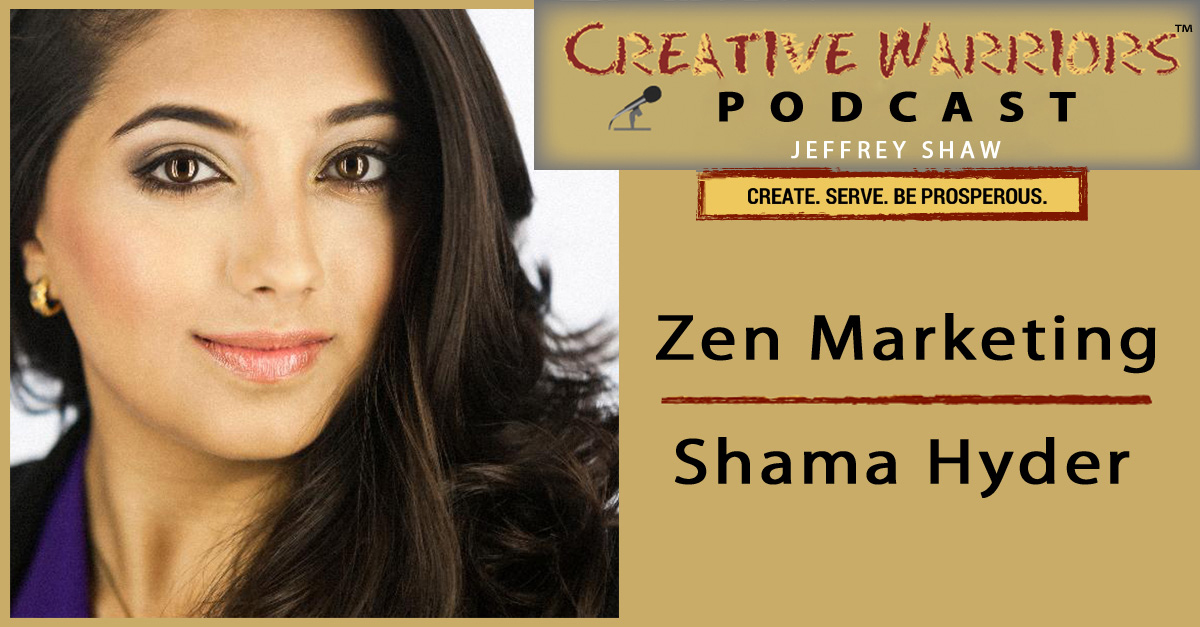 We don't often think about our online marketing, social media or website as being peaceful. Our guest today has a way of making the complex-simple, the noisy-quiet and marketing a bit more zen-like.
Known as the "Zen Master of Marketing" by Entrepreneur Magazine and the "Millennial Master of the Universe" by Fast Company, Shama Hyder is a visionary strategist for the digital age. She is the bestselling author of the Zen of Social Media Marketing and international keynote speaker who's shared the stage with the world's top leaders, including President Obama and the Dalai Lama.
As the CEO of the award-winning Marketing Zen Group, Shama was named as one of the "Top 30 Under 30" Entrepreneurs in America by Inc Magazine in 2013 and was honored at the White House as one of the top 100 U.S. companies to be run by a young entrepreneur by Empact100.
A trusted media expert, Shama has frequently appeared on Fox Business, CBS, CW33 and Fox News and has been featured in The New York Times, The Wall Street Journal, Entrepreneur, Inc Magazine and Forbes. She was recently named to the Forbes 30 Under 30 list of movers and shakers for 2015.
WARRIOR of White-Light
"It's not about what your brand says about you, it's about what your brand allows others to say about themselves."
-Shama Hyder
Highlights –
The only decision you have to make about your online presence

Online marketing ACT Methodology

7 Elements of a great website

The difference between a consumer and a customer.

What exactly do you expect social media to do for you?
Resources –
Free Webinar: I'll be sharing how to leverage your creative side and use it as an advantage in business. Join me for my free webinar, How To Run A Business As A Creative. Go to creativewarriorunleashed.com or text warrior to number 33444 to register and unleash your creative-thinking to propel your business forward.
Getting your point across in business can be tricky. Grammarly uses a browser extension to check your text for spelling and grammatical errors anytime you write something online to help you avoid mistakes in comments, tweets, and status updates. Get access to your own private editor 24/7!
Regain time and transform your commute, workout or chores into fun, productive ME TIME! Audible books are offering a free audio book, try it, like it and stay or cancel and keep your free Audible book. Go to Audible Trial.
Guest Contact –
Gifts –
Shama is generously offering a Free electronic copy of her "Online Marketing Plan". Check out Creative Warriors Gifts Page where you can grab Shama's offer as well as check out the free gifts from previous guests.
Are YOU a Creative Warrior? Find out and take the Creative Warrior Assessment for FREE (normally $10)
Affiliate Links: Disclosure of Material Connection: Some of the links in the post above are "affiliate links". This means that if you click on the link and purchase the item, I will receive an affiliate commission. Regardless, I only recommend products and services I use personally and believe will add value to my readers. I am disclosing this in accordance with the Federal Trade Commission's 16 CFR, Part 255: "Guides Concerning the Use of Endorsements and Testimonials in Advertising."