WARRIOR of Grit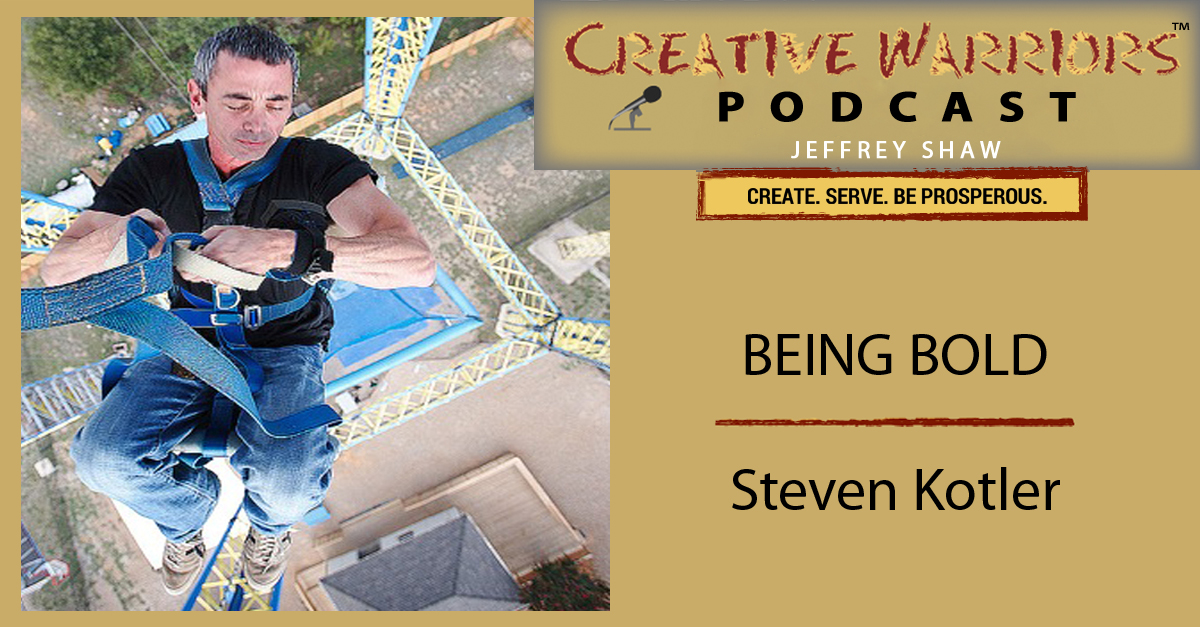 I often refer to us Creative Warriors as brave souls for putting ourselves on the line every day. Today, we're talking about being bold. Which got me thinking about the difference between being brave and being bold. I think being bold is bravery with an edge. Courageousness with a bit more confidence. We could serve ourselves and others well as Creative Warriors by adding a bit more boldness to our bravery.
Steven Kotler is a New York Times & Wall Street Journal bestselling author, an award-winning journalist, appearing in over 80 publications, such as Atlantic Monthly, Forbes, PsychologyToday, Wired and TIME. Steven is the co-founder/director of research for the Flow Genome Project. He is one of the world's leading experts on human performance.
His book, Bold, co-authored with Peter Diamandis and was called a "visionary roadmap for change," by President Bill Clinton. His previous book, The Rise of Superman, was the first book in history to land on national bestseller lists in the sports, science, and business categories simultaneously. In it, Steven decodes the science of flow, an optimal state where we feel and perform at our best.
Steven's insights are both inspiring and motivating for the creative thinker. Those Creative Warriors who like big picture ideas and a true storyteller will love this episode!
WARRIOR of Grit
"The difference between taking on a giant challenge and an average challenge is simply, your mindset."
-Steven Kotler
Highlights –
Resources –
Guest Contact –
Mentions –
Gifts –
Are YOU a Creative Warrior? Find out and take the Creative Warrior Assessment for FREE (normally $10).
Check out Creative Warriors Gifts Page where you can check out the free gifts from previous guests.
Affiliate Links: Disclosure of Material Connection: Some of the links in the post above are "affiliate links". This means that if you click on the link and purchase the item, I will receive an affiliate commission. Regardless, I only recommend products and services I use personally and believe will add value to my readers. I am disclosing this in accordance with the Federal Trade Commission's 16 CFR, Part 255: "Guides Concerning the Use of Endorsements and Testimonials in Advertising."