WARRIOR Circle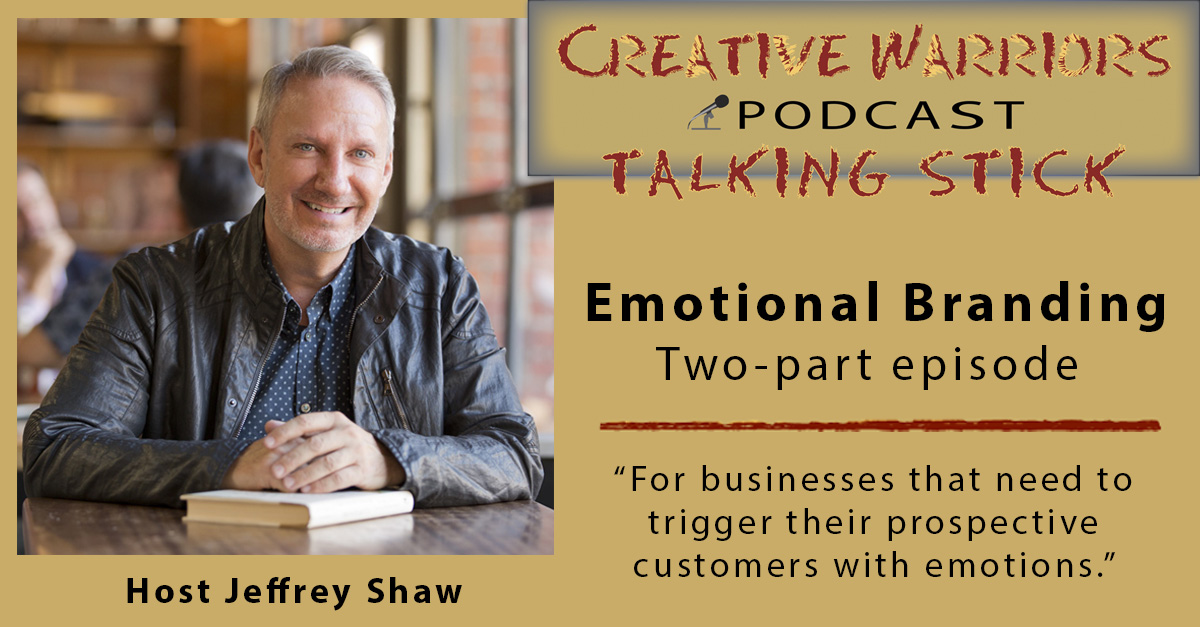 We have something truly special for you today. A two-part episode on the topic of Emotional Branding. You might be wondering, "what is emotional branding?" Emotional Branding is for businesses that need to trigger the emotions of prospective clients in order to stand out and gain their business. It's the emotions that get them engaged and wanting to work with you. As a Creative Warrior, you are likely in a business where understanding the concept of Emotional Branding and having an Emotional Branding Strategy will serve you very well. Here's how the two-parts work:
Part one, episode 177, introduces the concept of Emotional Branding. You'll come to understand what it is, how it connects with your clients, and how it will benefit you. The player for Part one, episode 177, is above.
In Part two, episode 178, I provide 5 specific Emotional Branding Tips and Strategies. The player for episode 178 is below.
The reason we are splitting this up is so that after you listen to both episodes, you can go back and just listen to Part two, 178, to study the tips and strategies better. 
Here are the 5 Emotional Branding Tips:
Know how the world looks from your client's perspective

Discover your client's deeper need

Allow client's to discover you

Understand the difference between being your audience and being their leader and expert

Align your brand with the lane you choose
I'm very excited to bring the Emotional Branding concept to you. This is a key component in how I help my coaching clients. You could say I sort of skip over my coaching clients and imagine I'm their client. It's from the perspective of their client that I can reflect back to them what emotions would trigger me (as their client) to be engaged. This idea of Emotional Branding is in fact exactly how I built a very successful 32-year photography business and fast-growing coaching practice. Now with further clarity on the topic, I believe I can support you even more, to help you trigger just the right emotions with your clients that will cause them to be clamoring to work with you!
"For businesses that need to trigger their prospective customers with emotions."
-Jeffrey Shaw
The Talking Stick is in your hands now. Let us hear from you.
Be part of the conversation –
We want to hear your opinion on the topic. Let us know what you think or share a personal story. Join our community Facebook group, Creative Warriors Unite, at www.joinwarriors.com and add to the conversation. 
Contact Jeffrey –
Resources –
Affiliate Links: Disclosure of Material Connection: Some of the links in the post above are "affiliate links". This means that if you click on the link and purchase the item, I will receive an affiliate commission. Regardless, I only recommend products and services I use personally and believe will add value to my readers. I am disclosing this in accordance with the Federal Trade Commission's 16 CFR, Part 255: "Guides Concerning the Use of Endorsements and Testimonials in Advertising."