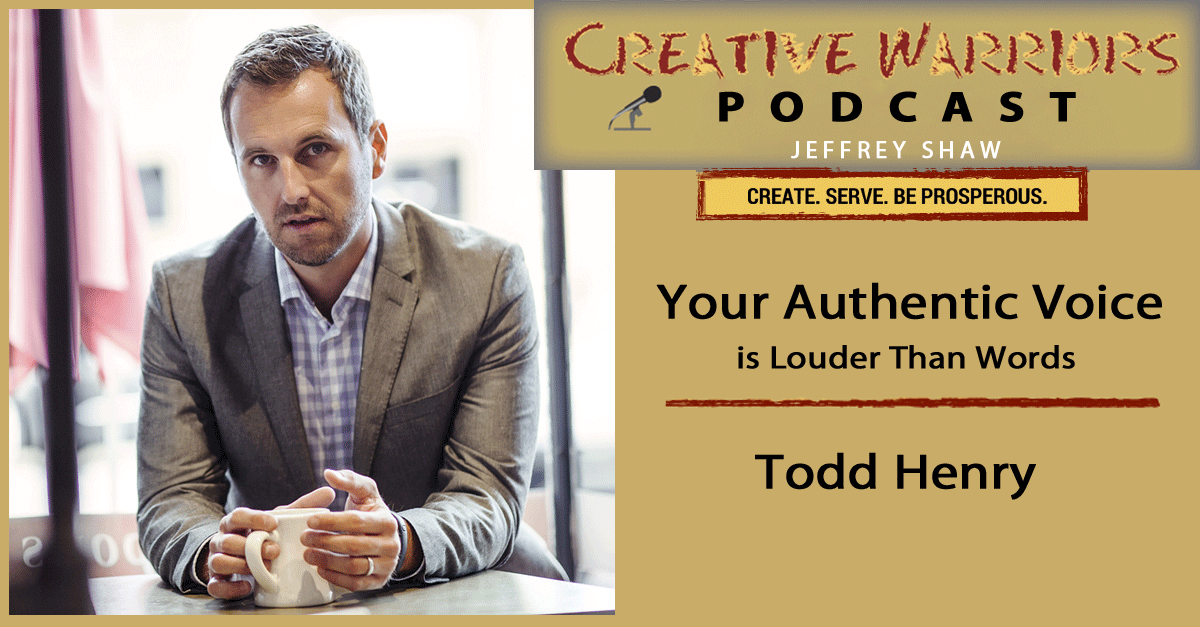 When the authentic voice of your work is clear, the impact you create is louder than words. It takes a strong sense of identity, vision, and mastery, and we are going to dive into the critical topic of knowing your authentic voice. Critical because today people want to connect with the real deal. Your authenticity. And your authentic voice, your "message," must be clear to stand out in today's noisy marketing world.
I'm super excited to have author, speaker, trainer and podcast host Todd Henry back on Creative Warriors to discuss his latest work, Louder Than Words: Harness the Power of Your Authentic Voice. This work is one of the most important books I've had the pleasure to read and it could not have come along at a better time in business.
Todd has also authored The Accidental Creative and Die Empty, both fantastic reads. He is the founder of Accidental Creative, a company that helps people and teams free themselves to do brilliant work. Todd speaks internationally on creativity, productivity, leadership and passion for work.
Highlights –
Resources –
Guest Contact –
Mentions –
Gifts –
Todd is generously offering a MASSIVE BUNDLE OF GIFTS for each Pre-Order of his book "Louder Than Words: Harness the Power of Your Authentic Voice." Check out Creative Warriors Gifts Page where you can grab Todd's offer as well as check out the free gifts from previous guests.
Affiliate Links: Disclosure of Material Connection: Some of the links in the post above are "affiliate links". This means that if you click on the link and purchase the item, I will receive an affiliate commission. Regardless, I only recommend products and services I use personally and believe will add value to my readers. I am disclosing this in accordance with the Federal Trade Commission's 16 CFR, Part 255: "Guides Concerning the Use of Endorsements and Testimonials in Advertising."