WARRIOR OF LEVITY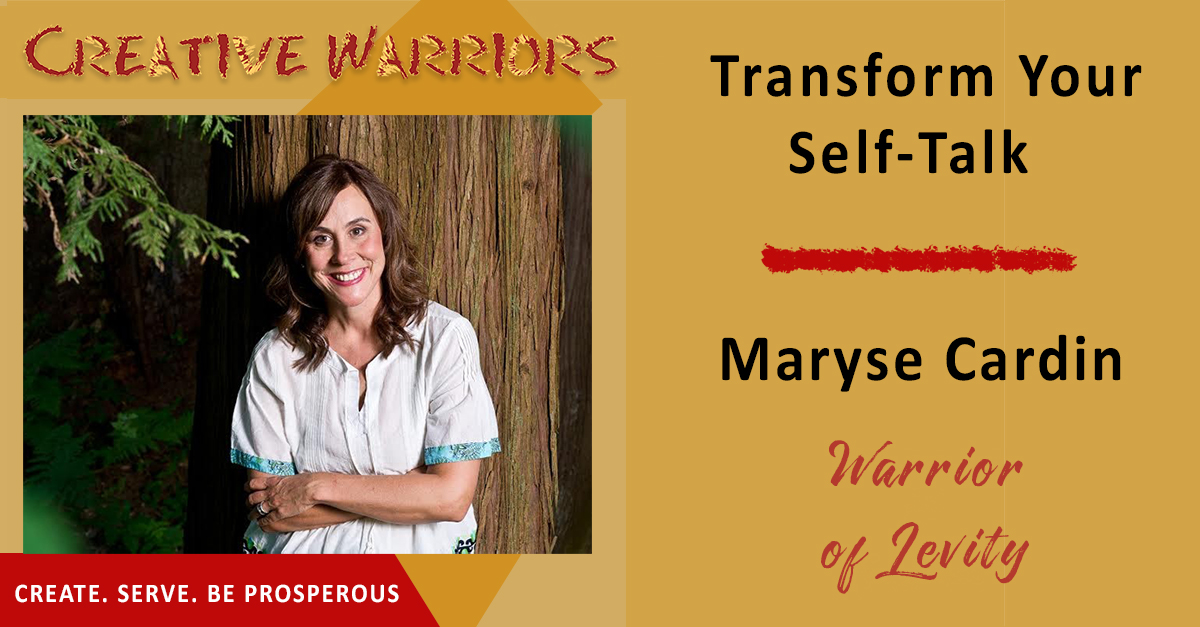 If someone you knew and loved messed up, would you call them an idiot? Would you tell them how stupid they are? Of course not. You'd tell them it was ok, and you'd support them to learn from their mistakes and move of. So why do we talk to ourselves that way?
The way we talk to ourselves has a really strong impact on how we think about ourselves. If we tell ourselves we're an idiot, we will start to believe we are an idiot, and then depression and anxiety will kick in. Instead, talk to yourself like you would talk to someone you care about and respect. Tell yourself it's ok, allow your mind to replay the event that's troubling you one time so you can learn from it, then move on. The longer you ruminate, the worse your mental state will become.
On this episode of Creative Warriors, we are joined by Maryse Cardin. Maryse is an expert on improving your self-talk, and all the positive benefits that come from it. Download this episode now so you can learn how to stop beating yourself up, move on, and start decreasing your depression and anxiety.
WARRIOR OF LEVITY
"I am more important than my problems." -Maryse Cardin
Highlights –
Really listen to what you are saying to yourself.

Speak to yourself like you speak to someone you love and respect.

You can start to introduce helpful voices in your life.

Be the person that stands up for you.

It's important to talk to yourself in the second person.

You are allowed to replay the movie once to see what you can learn.

Rumination can lead to depression.

Find your own words of courage.

Improving your self-talk is the practice that will result in improving self-worth.

The right path is rarely fixing what's broken.
Guest Contact –
Resources –
12 Must-Have Mindsets for Uncommon Entrepreneurs!

A FREE tool for Creative Warriors to help you get clear on the ways you need to think differently to get the results you want. We've been handed a whole bunch of malarky about who we are and how business works that simply doesn't work for us. It's time to set it straight! This tool will give you the insights you need to think your way to success as a Creative Warrior and keep you on track.

Check out the Creative Warriors RESOURCE page! A collection of the best companies, hand-selected, to help you succeed! You'll find vendors, services, products, and programs to help you Create, Serve, and Be Prosperous! All these companies have been used and approved by Jeffrey and most are used every day in his business.
Affiliate Links: Disclosure of Material Connection: Some of the links in the post above are "affiliate links". This means that if you click on the link and purchase the item, I will receive an affiliate commission. Regardless, I only recommend products and services I use personally and believe will add value to my readers. I am disclosing this in accordance with the Federal Trade Commission's 16 CFR, Part 255: "Guides Concerning the Use of Endorsements and Testimonials in Advertising."