WARRIOR OF BELIEVE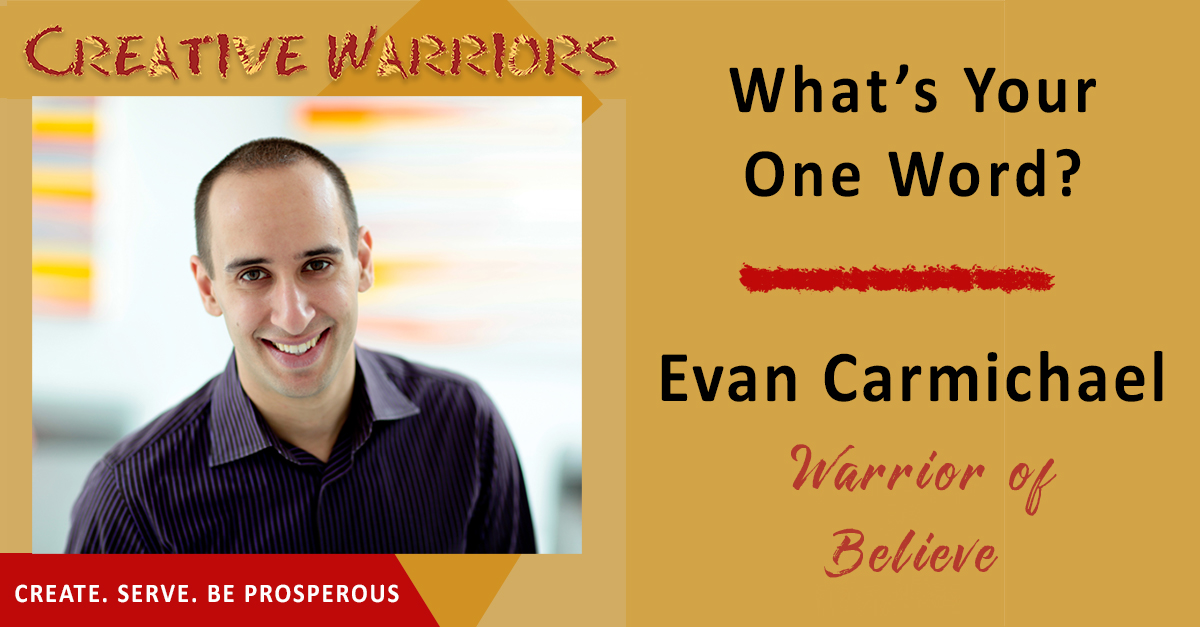 If you were to pick one word to represent your authentic self, what would it be? What does your story add to your competitive advantage in the world of entrepreneurship? Evan Carmichael joins us today to discuss the art of finding your one word, and the powerful advantages behind knowing your word.
Evan Carmichael is the author of "Your One Word: the Powerful Secret to Creating a Business and Life that Matter." Evan has had a variety of jobs over the last 20 years, from building and selling a biotech software company, to now being the founder and owner of EvanCarmichael.com, a popular website for entrepreneurs!  
WARRIOR OF Believe
"Your one word and core value is a constant in your life." -Evan Carmichael
Highlights –
Your competitive advantage as an entrepreneur is recognizing your authentic story and self.

What makes you different, makes you marketable.

Once you figure out what your one word is, it will begin to feel more and more

right

over time.

Your one word and core value is a

constant

in your life. These will always be important to you.

If your word doesn't come immediately, that's okay! It can take awhile to find what word really feels right for you.

In order to find your word, it is highly encouraged to ask yourself what makes you happy.

Write down a list of your goals in order to have a clear vision of the future.

Book some "you time" to ask yourself the questions: "is this who I am and who I always will be?"

Your one word is so meaningful, that it could become the culture of your business.
Guest Contact –
Resources –
BlueHost


When it comes to keeping your website and blog online, reliability is one of the most important things. BlueHost is continually ranked at the top as one of the most reliable web servers. They also have servers specific for WordPress sites which is critical to keeping you online and doing business.

Acuity Scheduling




If you want more of your most valuable resource back, automate your calendar with our top pick, Acuity. No more back and fourth, no-shows or multiple calendars to manage. All appointments, reminders, cancellations, even payments happen with 1-click. Acuity helps you gain time! Visit creativewarriorsunite.com/acuity for our offer or click the link in the show notes.

Grammarly


In our fast-paced world, we still need to clearly and confidently communicate what we want to say. Grammarly is our private editor 24/7 checking our spelling and grammar whenever we write something online to help avoid embarrassing mistakes in comments, tweets, and status updates! Grammarly is a Better Way To Write. Visit creativewarriorsunite.com/grammarly for our offer or click on the link in the show notes.

Audible Books


The easiest way I know to get inspired when reading is not an option is with AudibleBooks. You can regain time and transform your commute, workout or chores into fun, productive ME TIME! Audible books are offering a free audio book, try it, like it and stay or cancel and keep your free Audible book. Visit creativewarriorsunite.com/audible for our offer or click on the link in the show notes.

New Free MasterClass:
Warriors, if 80% of your income comes from 20% of your clients, 80% of your clients are the wrong clients! Imagine what it would be like to have almost 100% of your income come from all your clients because you're working with the right clients. Learn how knowing their secret language will attract your RIGHT clients— people who value what you do and are eager to pay you what you're worth. To register for this new masterclass, go to YourRightClients.com, and I'll see you in the masterclass!
Gifts –
Propel your business forward and register for Week of The Warrior for free. A 7-day mini-course to learn how to leverage your creative powers.
Affiliate Links: Disclosure of Material Connection: Some of the links in the post above are "affiliate links". This means that if you click on the link and purchase the item, I will receive an affiliate commission. Regardless, I only recommend products and services I use personally and believe will add value to my readers. I am disclosing this in accordance with the Federal Trade Commission's 16 CFR, Part 255: "Guides Concerning the Use of Endorsements and Testimonials in Advertising."