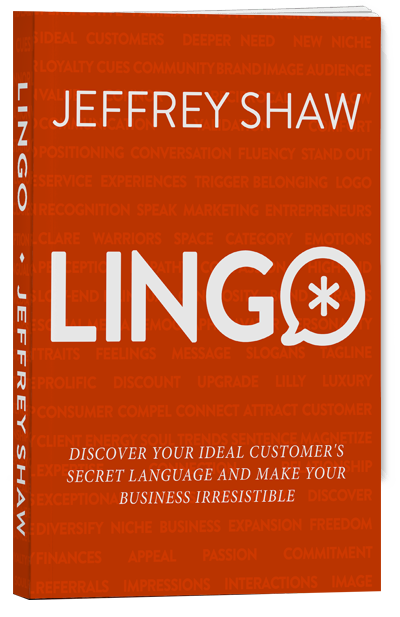 The fastest, easiest, and most profitable way to have a successful business is to work with your ideal customers. They value your offering and pay you what it's worth and they are a joy to serve. But how can you rise above the noise in a crowded marketplace to attract these customers?
You learn to speak their secret language.
In LINGO, serial entrepreneur, business coach, and host of Creative Warriors podcast, Jeffrey Shaw reveals how to make your business irresistible to your ideal customers by showing them that you "get" them.
In this book you'll learn:
The 5-Step Secret Language Strategy he used to go from being overlooked to being overbooked in less than one year

How LINGO as a marketing strategy makes competition almost irrelevant

How pricing can attract, not deter, your ideal customer

How to develop a brand image that magnetizes your ideal customer and filters out the rest
With game-changing insights, practical action steps, and relatable examples, Jeffrey Shaw opens a groundbreaking conversation to make business easier, more profitable, and more positively impactful for any entrepreneur.