THE EXPERIENCE WARRIOR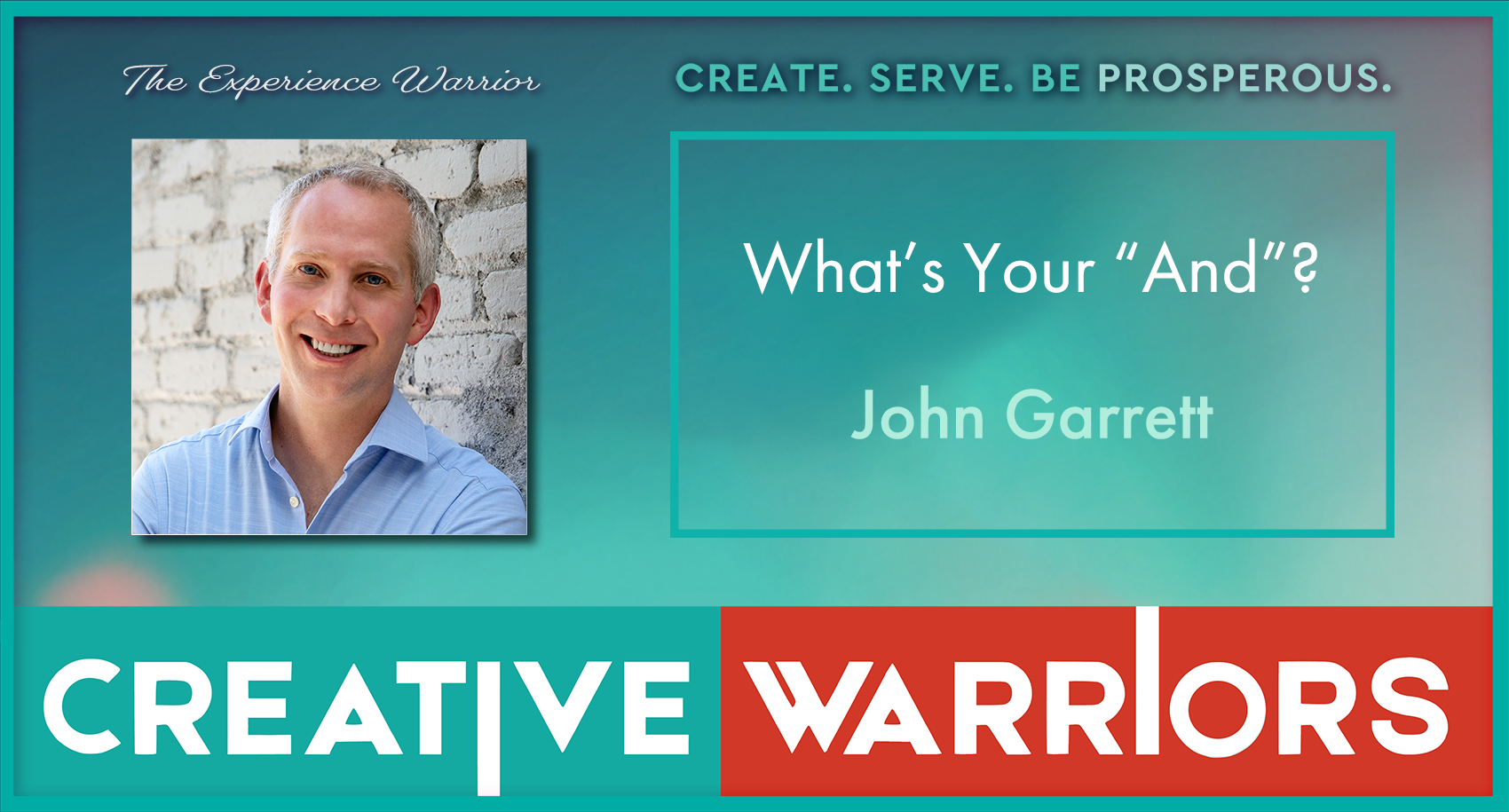 We are all more than one thing. But self-employed entrepreneurs have been told over and over again that we can't have a division between who we are in business and who we are at home. Studies show, however, that having and sharing other dimensions make you better at your job.
When I work with my coaching clients I help them connect the dots of who they are to figure out how they can serve their customers the most authentically. And believe me, we really dive in and find all the dots. We are all more than our jobs, so why do we feel pressure to pretend we are not? Sharing your "ands" is a wonderful way to stand out beyond your technical skills. They add texture to your humanity. It is important for self-employed business owners to bring their whole selves to their work, as well to give themselves the time and space to cultivate all of their sides. 
To dive into the power of sharing our "ands" I've brought on nationally recognized speaker, emcee, and stand-up comedian, John Garret. John draws on his condition as a recovering Big Four CPA to deliver messages that hit home with corporate audiences. This professional member of the National Speakers Association is on a mission to shatter the definition of "stereotypical professional" and in the meantime, show organizations how to create a stronger culture that increases engagement and reduces turnover. John has performed for leading companies ranging from "Big Four" accounting firms to banks and technology companies to professional associations seeking an outside-of-the-box way to engage their audiences.​
John reminds us that we can be good at our jobs without having them tattooed on our hearts. To learn how to fully embrace your "and," download this episode now. 
THE EXPERIENCE WARRIOR 
"We can be good at our jobs, but they don't have to be tattooed on our hearts." - John Garrett 
Highlights -
Studies show that sharing your other dimensions makes you better at your job. 

People that don't separate their work life from their personal life make better, more moral decisions. 

90% of people have a hobby outside of their job. 

Self-overlap is the interconnectedness between the different parts of you. 

Putting an "and" in your email signature is a great, subtle way to share something about yourself. You stand out if it's in a place that you don't think you should put your "and" 

Eudemonia: the optimal state of human existence. 

People who identify as having other dimensions are less prone to anxiety. 

What are you doing today that will make you memorable twelve years from now?
Guest Contact -
Contact Jeffrey -
Resources -
Have Your Website Brand Message Reviewed! Is your website and are all your marketing materials speaking the right LINGO of your ideal customers? Often it's not which is why you're not converting traffic and leads to clients and attracting your most profitable customers. Fill out the simple LINGO Review application and I'll take a look at your website. If I have suggestions for you to improve your brand message (I almost always do), we'll set up a complimentary 30-minute call to discuss. A select number of websites are also chosen for my LINGO Review Video Series. Fill out the application today and let's get your business speaking the right LINGO!
Affiliate Links: Disclosure of Material Connection: Some of the links in the post above are "affiliate links". This means that if you click on the link and purchase the item, I will receive an affiliate commission. Regardless, I only recommend products and services I use personally and believe will add value to my readers. I am disclosing this in accordance with the Federal Trade Commission's 16 CFR, Part 255: "Guides Concerning the Use of Endorsements and Testimonials in Advertising."