WARRIOR OF GRATITUDE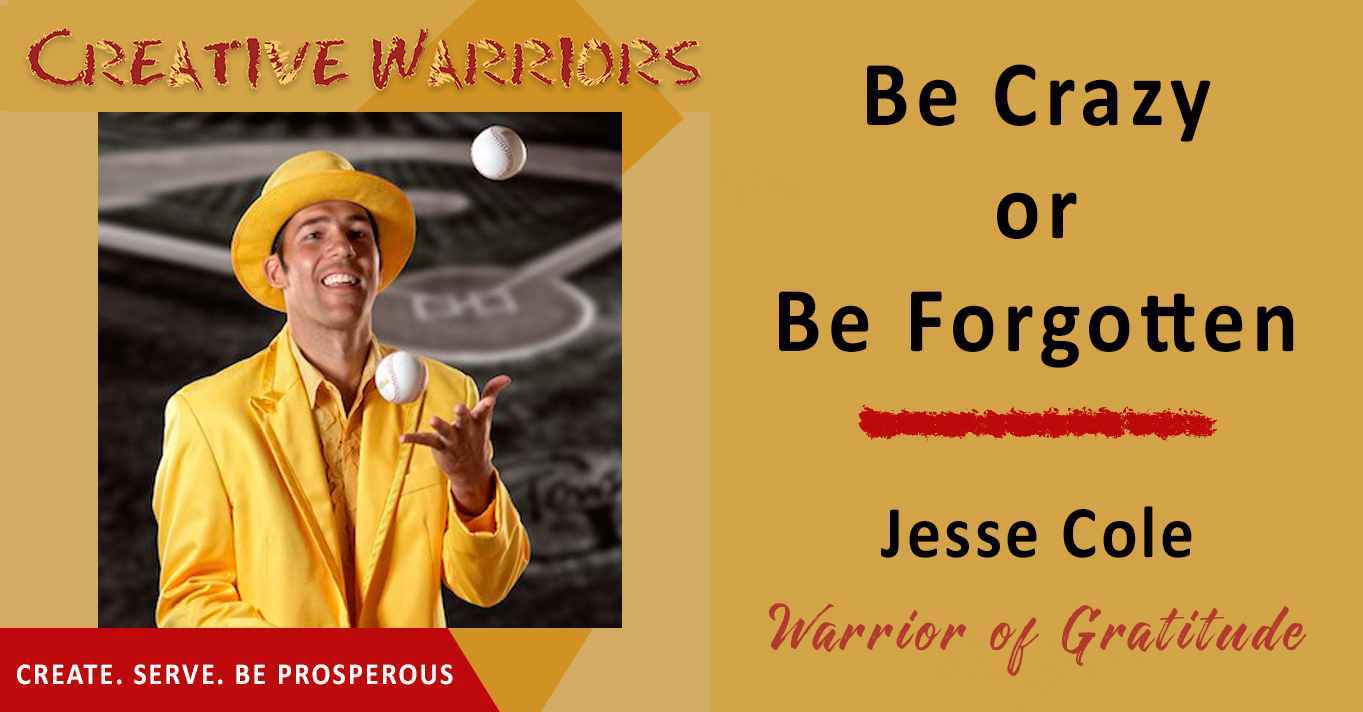 Most entrepreneurs I know enter a business looking to do what someone else does, only do it better. In the end, how much better can you do? 10%? 15%? You don't want to do what everyone else does, you'll just get lost in the crowd. Instead, do the exact opposite.
The first trick is to look at what the competition is doing - then see what upsets you about it. Does it take too long to get the product? Is it tough to do? Look at every single negative aspect and find ways to make it better. Second, find a way to for people to experience something for themselves. Don't force an experience on them, just set them up for something and sit back to see if they will engage it.
On this episode of The Creative Warriors, we are joined by Jesse Cole. Jesse is the Owner of Fans First Entertainment, who owns and operates the Savannah Bananas and the Gastonia Grizzlies. The teams have welcomed more than 1 million fans to their ballparks and have been featured on MSNBC, CNN, and ESPN. Jesse's teams have been awarded Organization of the Year, Entrepreneur of the Year, Business of the Year and have won three CPL Championships.
Jesse is an in-demand speaker and author of "Find Your Yellow Tux - How to Be Successful by Standing Out" released in January 2018. Jesse is also the host of the Business Done Differently Podcast. Jesse believes to be successful you need to Stand Out and Be Different. He is passionate about creating attention, loving your customers more than your product and loving your employees more than your customers. Jesse's mantra is "Whatever's normal, do the exact opposite." Jesse does practice what he preaches. He took a sport most people considered boring (baseball) and turned it into something magical.
Download this episode now to learn how you can turn your industry upside down.
WARRIOR OF GRATITUDE    
"Be different, stand out, and create your own path." - Jesse Cole 
Highlights -
Embrace the fact that you are different.

Put fans first.

Set the stage for people to create their own experiences.

When you create attention, everyone starts paying attention to you.

16% of the best ideas come from work.

When you get up in the morning, write down 10 ideas.

Look at what frustrates you about a company, and do the exact opposite.

If you could create the perfect experience, what would it look like?

To discover what you want to be known for, write your own obituary.
Guest Contact -
Contact Jeffrey -
Mentions-
Resources -
12 Must-Have Mindsets for Uncommon Entrepreneurs!

A FREE tool for Creative Warriors to help you get clear on the ways you need to think differently to get the results you want. We've been handed a whole bunch of malarky about who we are and how business works that simply doesn't work for us. It's time to set it straight! This tool will give you the insights you need to think your way to success as a Creative Warrior and keep you on track.

Check out the Creative Warriors RESOURCE page! A collection of the best companies, hand-selected, to help you succeed! You'll find vendors, services, products, and programs to help you Create, Serve, and Be Prosperous! All these companies have been used and approved by Jeffrey and most are used every day in his business.
Affiliate Links: Disclosure of Material Connection: Some of the links in the post above are "affiliate links". This means that if you click on the link and purchase the item, I will receive an affiliate commission. Regardless, I only recommend products and services I use personally and believe will add value to my readers. I am disclosing this in accordance with the Federal Trade Commission's 16 CFR, Part 255: "Guides Concerning the Use of Endorsements and Testimonials in Advertising."