WARRIOR OF GRATEFUL PATIENCE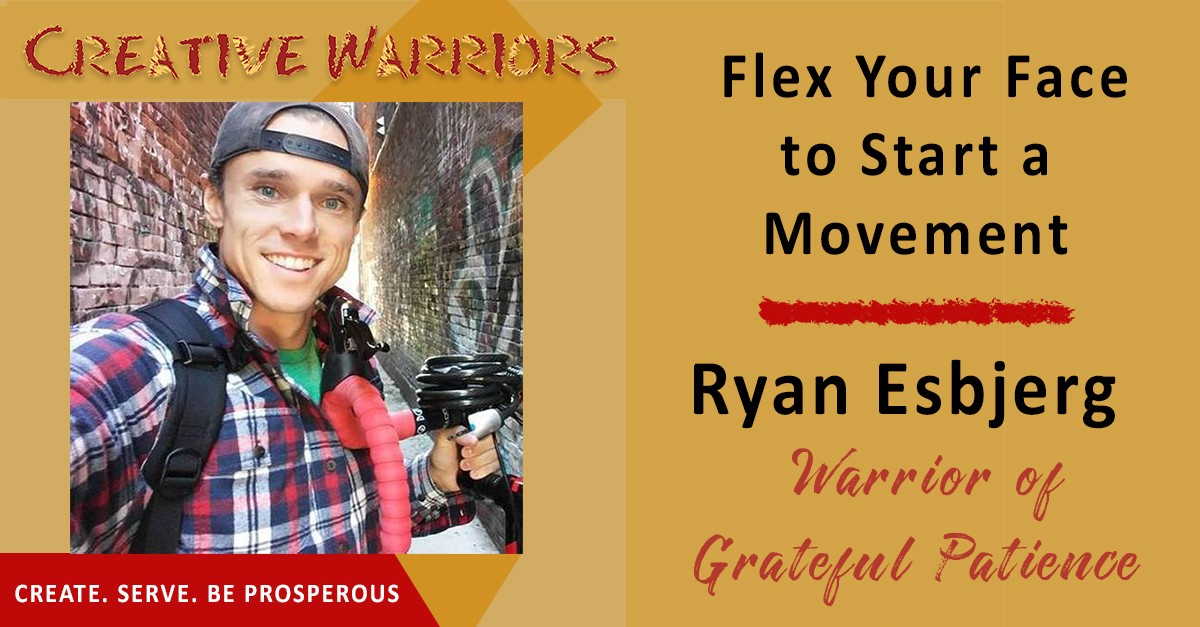 Our days can be long. Sometimes hard, tiring, and just plain exhausting. What makes you smile? When do you stop yourself throughout the day to take a moment and appreciate a small celebration? We can get caught up in what we've done wrong, or what we don't have, and we forget to take time to just smile about what we DO have. That's exactly why Ryan Esbjerg started "Flex Your Face."
Ryan Esbjerg joins us to discuss his business "Flex Your Face" and his entrepreneurial journey. Ryan wants to give back to the community by spreading happiness and bringing those together to appreciate the small celebrations in life, as well as the big ones!
WARRIOR OF GRATEFUL PATIENCE
"Find a reason." -Ryan Esbjerg
Highlights -
"Flex Your Face" means to smile!

The Flex Your Face mission is to ignite people's lives through the celebration of small moments in their day.

The deepest relationships are in person, which is why Flex Your Face does community events!

Flex Your Face University is their community development program.

The quicker you get to what's working, the quicker you get to things in your personal life.

When you smile, it helps you build momentum and get motivated.

100% of the profits go back to the people who purchase apparel.

Whatever makes you happy is a good thing.

It's okay for your goals and missions in life to be selfish.
Guest Contact -
Resources -
Do you ever wish you could get advice for your business? Does it sometimes feel like you're completely on your own? Ever wish you had help getting things done? Then join the Creative Warriors Alliance! A weekly group coaching call with Jeffrey every Tuesday 1pm-2pm. Get all the coaching you want, the support of peers, and the accountability you need to accomplish big things. 
Check out the Creative Warriors RESOURCE page! A collection of the best companies, hand-selected, to help you succeed! You'll find vendors, services, products, and programs to help you Create, Serve, and Be Prosperous! All these companies have been used and approved by Jeffrey and most are used every day in his business.
Gifts -
Propel your business forward and register for Week of The Warrior for free. A 7-day mini-course to learn how to leverage your creative powers.
Affiliate Links: Disclosure of Material Connection: Some of the links in the post above are "affiliate links". This means that if you click on the link and purchase the item, I will receive an affiliate commission. Regardless, I only recommend products and services I use personally and believe will add value to my readers. I am disclosing this in accordance with the Federal Trade Commission's 16 CFR, Part 255: "Guides Concerning the Use of Endorsements and Testimonials in Advertising."