THE WARRIOR OF EMPATHY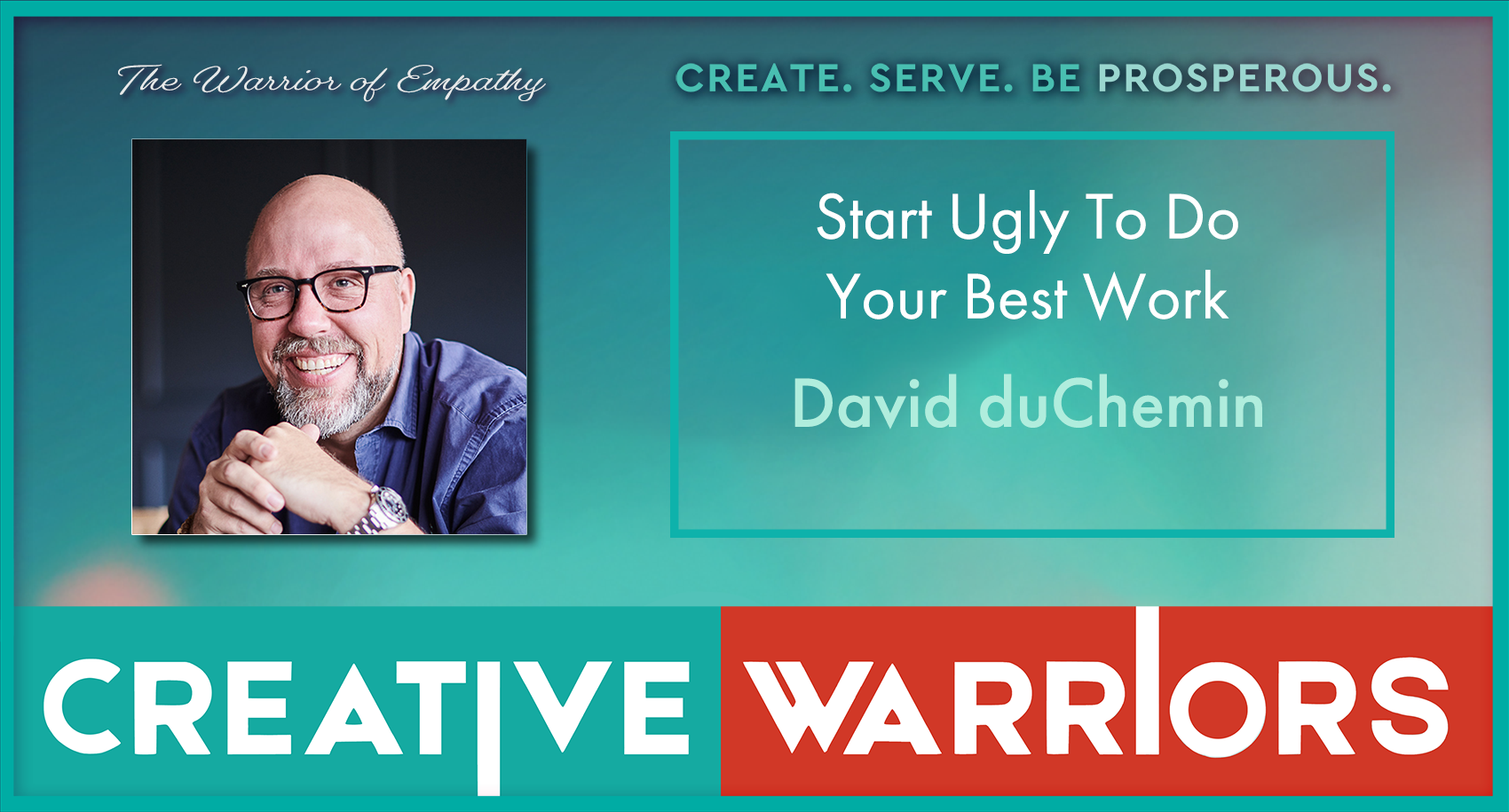 Creativity is iterative. It is about possibility. True creativity is about the everyday making of things; of just doing and refining until we can eventually get to our genius. Sometimes all we need is the discipline to just start. So if we can give ourselves the permission to just start with whatever terrible ideas we have, we can often get into that sought after "flow state" even sooner. 
Many creatives are binary when it comes to what and how they produce work. Either it's all about inspiration and the arts, or it's sitting down and hammering out an idea. Too many of us are quick to judge a thing as good or bad. And in doing that we paralyze our process with fear of failure or looking foolish. But there is an unfiltered nature to "starting ugly" and if we own it, we can open up a variety of pathways until we get to where we want to be. But being a fulltime creative and/or self-employed means you have to wear your discipline hat. You have to have a routine in order to clear your brain and just start. 
To dive deeper into how to "start ugly" I have brought back a friend and past guest, best-selling author and photographer, David duChemin.
David is a leading expert in the field of creativity. His podcast and book, A Beautiful Anarchy, help him share his message with tens of thousands. Fueled by his endless creative hunger, he has built a seven-figure business with the goal of inspiring others to realize that the creative life is for everyone—not just artists. David spent the last twelve years travelling the world as a humanitarian photographer and creativity workshop instructor on all seven continents. His expertise has been profiled in magazines and podcasts including Overland Journal, Elephant Journal and The Accidental Creative. 
Find out how to own your "ugly" by downloading this episode now.
THE WARRIOR OF EMPATHY
"Poetic over perfection." - David duChemin
Highlights -
Guest Contact -
Mentions -
Contact Jeffrey -
Resources -
Have Your Website Brand Message Reviewed! Is your website and are all your marketing materials speaking the right LINGO of your ideal customers? Often it's not which is why you're not converting traffic and leads to clients and attracting your most profitable customers. Fill out the simple LINGO Review application and I'll take a look at your website. If I have suggestions for you to improve your brand message (I almost always do), we'll set up a complimentary 30-minute call to discuss. A select number of websites are also chosen for my LINGO Review Video Series. Fill out the application today and let's get your business speaking the right LINGO!
Affiliate Links: Disclosure of Material Connection: Some of the links in the post above are "affiliate links". This means that if you click on the link and purchase the item, I will receive an affiliate commission. Regardless, I only recommend products and services I use personally and believe will add value to my readers. I am disclosing this in accordance with the Federal Trade Commission's 16 CFR, Part 255: "Guides Concerning the Use of Endorsements and Testimonials in Advertising."