THE WARRIOR OF COMPASSION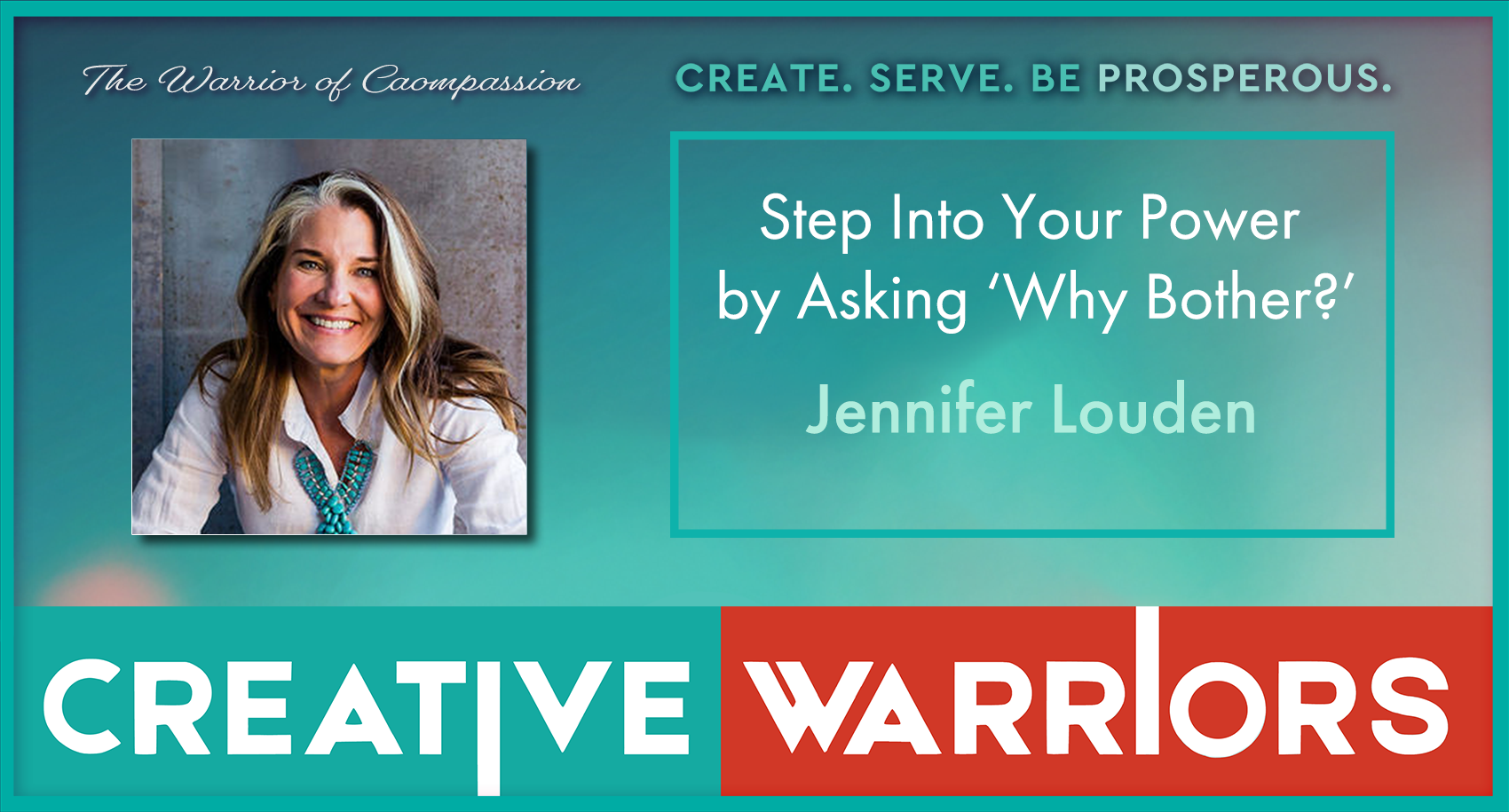 Sometimes even when we're working on our 'calling' we don't even realize we're working like machines. Many of us have lost our sense of wonder. We no longer look at the world in awe. We begin to believe that desiring something other than what we have is somehow a negative feeling. We Creative Warriors talk a lot about finding our 'why.' But what about getting to the why of your 'why?'
Part of my upcoming book is about becoming self-employed in mid-life. I love coaching clients who are making big life and/or work changes later in life because it is a very different experience than doing it in youth. And the experience, in my opinion, is richer. It's interesting, then, to pose the question to this community: why bother? Why now? What is it about this current life that isn't working? And it goes for all ages; once you begin to own your experience - both the good and the bad - you can step into whatever the next phase might be. 
To dive deeper into "getting our bother on" I've brought on personal growth pioneer, Jennifer Louden. 
Jennifer helped launch the concept of self-care with her first bestseller, The Woman's Comfort Book. Since then, she's written six additional books on well-being and whole living, including The Woman's Retreat Book and The Life Organizer, with close to a million copies of her books in print in nine languages. Her newest is Why Bother? Discover the Desire for What's Next. Jennifer has spoken around the world, and has written a national magazine column for a Martha Stewart magazine, been quoted in two of Brené Brown's books, and has appeared on hundreds of TV programs, radio shows, and podcasts—even on Oprah.
Find out why it is essential to answer the question of "why bother" by downloading this episode now. 
THE WARRIOR OF COMPASSION
"It is an essential act to be at peace with ourselves." - Jennifer Louden
Highlights -
Asking 'why bother?' is not about resignation. It is about opportunity.

Sometimes your signature theme is not what you expect or want it to be. 

Understanding why you 'bother' is not a selfish act.

What cost are you willing to pay for a life that you're willing to bother about? 

Asking 'why bother' is not about beating yourself up. It's an opportunity for discernment. 

'Shadow comforts' are the things we do that make us think we're taking care of ourselves but are actually taking us away from ourselves. 

Wonder opens the door for desire. 

Desire is evolutionary. 

The ultimate source of desire is the soul's impulse to express itself in the world.
Guest Contact -
Contact Jeffrey -
Resources -
Have Your Website Brand Message Reviewed! Is your website and are all your marketing materials speaking the right LINGO of your ideal customers? Often it's not which is why you're not converting traffic and leads to clients and attracting your most profitable customers. Fill out the simple LINGO Review application and I'll take a look at your website. If I have suggestions for you to improve your brand message (I almost always do), we'll set up a complimentary 30-minute call to discuss. A select number of websites are also chosen for my LINGO Review Video Series. Fill out the application today and let's get your business speaking the right LINGO!
Affiliate Links: Disclosure of Material Connection: Some of the links in the post above are "affiliate links". This means that if you click on the link and purchase the item, I will receive an affiliate commission. Regardless, I only recommend products and services I use personally and believe will add value to my readers. I am disclosing this in accordance with the Federal Trade Commission's 16 CFR, Part 255: "Guides Concerning the Use of Endorsements and Testimonials in Advertising."