THE RESOURCE WARRIOR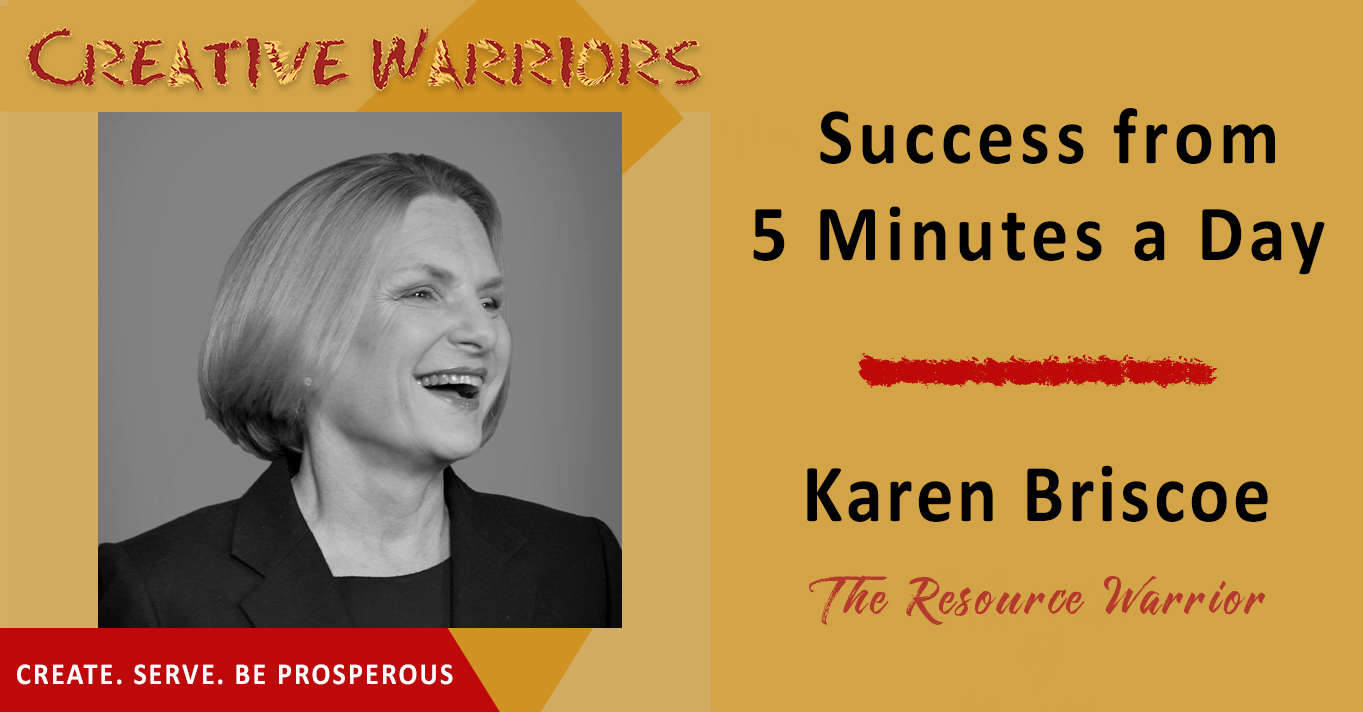 As creatives we've all heard about the importance of creating good habits. After all, it's not people who decide their destiny: it's their habits that decide it for them. One problem I've noticed a lot of people I coach have is that they try to do too much all at once. They try to change their entire routine for the day, and it makes things complicated. Chances are a huge change, even an hour or more, can be nearly impossible to turn into a habit. You're more likely to fall back into your old habits and not make the progress you want.
The secret is to instead only change your routine by 5 minutes. You also don't need to change your routine completely. By doing what today's guest calls "habit stacking", you're able to shift to add a new habit to your day and make the transition easier. As you incorporate the new habit you may find yourself naturally spending more and more time on it without hesitation. These small changes, over the course of time, will lead to huge results.
To dive more into this I brought on the author of Success if 5 Minutes a Day: Karen Briscoe. Karen Briscoe is principal owner of the Huckaby Briscoe Conroy Group (HBC) with Keller Williams. The HBC Group has been recognized by the Wall Street Journal as one of the 250 Top Realtor® teams in the United States.
Through HBC Group, Karen and her business partner Lizzy Conroy launched Community Charity Champions to raise funds for local nonprofit groups and organizations and was awarded the Social Corporate Responsibility Award for 2012 by the Greater McLean Chamber of Commerce. In addition, Karen has been a board member for Lift Me Up!, a therapeutic horseback riding program for children and adults with disabilities in Great Falls, Virginia, since 2006. Her family is actively involved at Trinity United Methodist Church in McLean, Virginia.
Download this episode today to hear how you can make small changes that will have big a big impact.
THE RESOURCE WARRIOR    
"People don't decide their futures, they decide their habits. Their habits decide their future." -Karen Briscoe
Highlights -
Guest Contact -
Contact Jeffrey -
Mentions-
Resources -
Affiliate Links: Disclosure of Material Connection: Some of the links in the post above are "affiliate links". This means that if you click on the link and purchase the item, I will receive an affiliate commission. Regardless, I only recommend products and services I use personally and believe will add value to my readers. I am disclosing this in accordance with the Federal Trade Commission's 16 CFR, Part 255: "Guides Concerning the Use of Endorsements and Testimonials in Advertising."