WARRIOR of Negotiation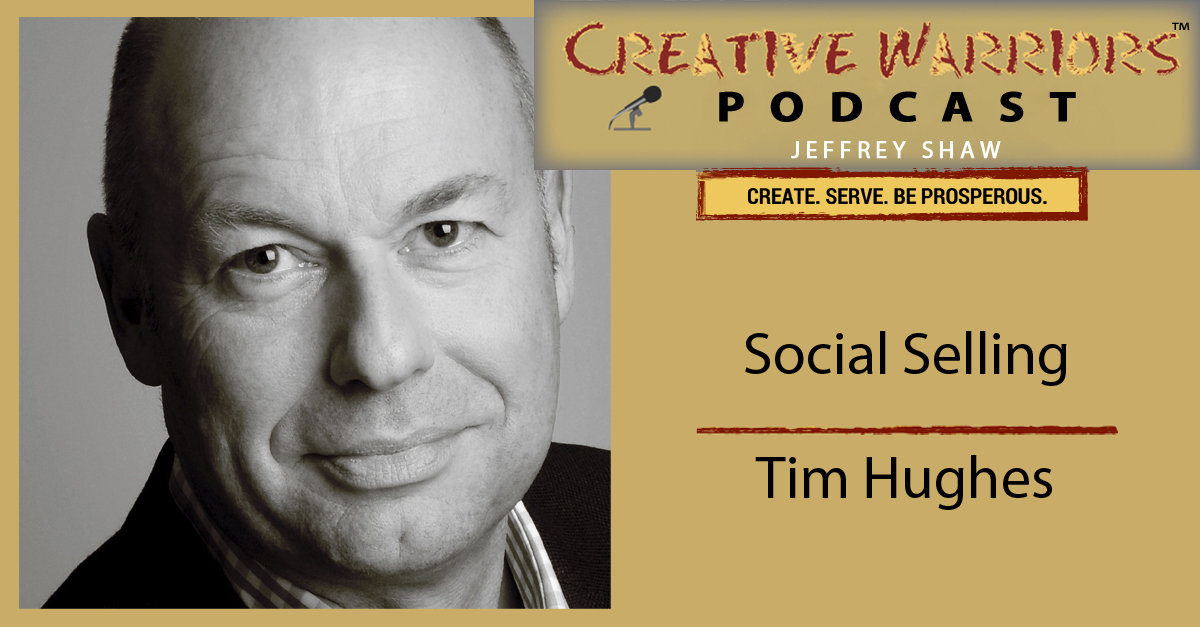 If you're active on social media as a small business and are wondering, like many if it's worth anything more than connecting with friends, this episode is for you. Today's conversation is not about social media, but rather social selling and how social media is simply a tool that when used well can yield tremendous results professionally and personally.
Tim Hughes is a transformational leader, best-selling author, and a top 10 Social Media influencer.  With a background in sales and sales management, Tim has been involved in Social Media for over 7 years, having built a following of 150,000 Twitter followers which positioned him as a top 10 Influencer. He is a renown international speaker, blogger, and writer.
With the disruption in the market from Cloud and Social, three years ago Tim was involved in the European transformation of the sales and marketing teams at one of the largest tech companies in the world.  He shares many of his Social Selling skills in his bestselling book "Social Selling: Techniques to Influence Buyers and Changemakers."
Tim is also the co-founder of Digital Leadership Associates a company designed to help companies transform into the digital and social media age.
WARRIOR of Negotiation
"People buy people, at the end of the day social media is simply a tool."
-Tim Hughes
Highlights -
Building relationships with social media

Using social media as part of your selling strategy

Finding business value in social media

Crowdsource networking

4 components to receiving inbound inquiries
Resources -
Zoho Inventory




Running your business and processing orders, following up on the delivery status and keeping track of your inventory on a daily basis is challenging.  Zoho Inventory helps you tackle this problem, is easy to set up and simple to use. It automates the entire order management process so you can just focus on growing your business. You can even manage everything from one place. It's straightforward and hassle-free! Go to and get free access to explore all the features of our professional edition of Zoho Inventory for the next three months!

Inspyr Socks


What keeps you going as an entrepreneur? Inspiration. One of my favorite ways to stayed inspired is with Inspyr socks. A constant reminder to stay empowered with a belief that anything is possible— where the message is purposely knitted into the back of the sock for others to read and get inspires as well. They're also excellent gifts! Check them out at inspyrsocks.com. Use Code Warrior to receive 10% off every order.

Grammarly
Getting your point across in business can be tricky. Grammarly uses a browser extension to check your text for spelling and grammatical errors anytime you write something online to help you avoid mistakes in comments, tweets, and status updates. Get access to your own private editor 24/7!
Free Webinar


I'll be sharing how to leverage your creative side and use it as an advantage in business. Join me for my free webinar, How To Succeed In Business Marketing Yourself and Your Talent. Register here or text warrior to number 33444 to register and unleash your creative thinking to propel your business forward.
Guest Contact -
Mentions -
"Everyone is on Linkedin, but the interesting people are on Twitter." Brian Solis

"If you're going to fail, fail fast." Mark Zuckerberg
Gifts -
Check out Creative Warriors Gifts Page where you can get free gifts from previous guests.
Affiliate Links: Disclosure of Material Connection: Some of the links in the post above are "affiliate links". This means that if you click on the link and purchase the item, I will receive an affiliate commission. Regardless, I only recommend products and services I use personally and believe will add value to my readers. I am disclosing this in accordance with the Federal Trade Commission's 16 CFR, Part 255: "Guides Concerning the Use of Endorsements and Testimonials in Advertising."