WARRIOR of Compassion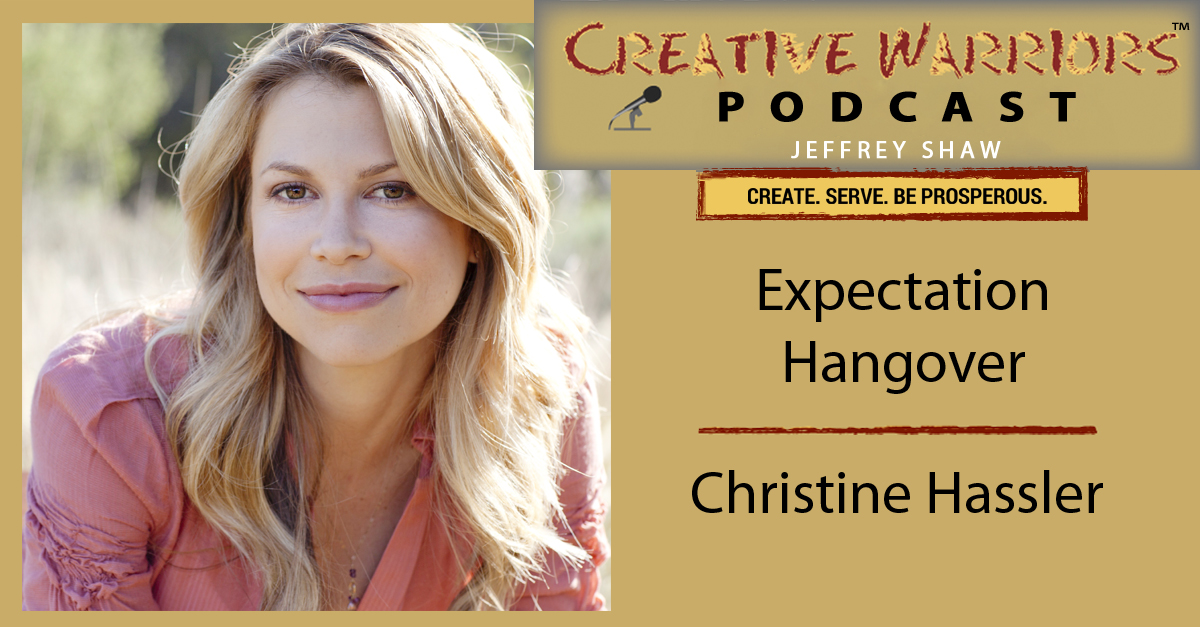 Today we're talking about expectations or more precisely when things don't turn out as we expected. What our guest calls an Expectation Hangover. Our conversation is full of great takeaways and tangible actions you can all take to meet your goals and fill your soul.
Christine Hassler is the author of 20 Something, 20 Everything, The 20 Something Manifesto, and the national bestseller Expectation Hangover: Free Yourself From Your Past, Change Your Present, and Get What You Really Want,  which was recently released in a new paperback edition.
Christine left her successful job as a Hollywood agent to pursue a life of purpose she could also be deeply passionate about. For over a decade she has been sharing her passion to ease suffering as a speaker, retreat facilitator, life coach and author. Christine believes once we get out of our own way, we can show up to make the meaningful impact we are here to make.
WARRIOR of Compassion
"Our greatest suffering is when expectations are not met."
-Christine Hassler
Highlights -
Managing goal setting and results

Goal line vs. the soul line

Understanding expectations

Role Playing Prescription for your expectation
Resources -
Zoho Invoice helps small businesses and freelancers stay on top of getting paid fast. While you can never get rid of invoicing, you can do it faster and have it all organized in one place with Zoho online invoicing software. It is easy to use, saves you plenty of time doing less data entry and reduces invoicing errors. Visit zohoinvoice.com/warriors and for hassle-free invoicing. Sign up and get 3 months of free, unlimited access to all Zoho Invoice features.
Client scheduling a crazy hot mess? Don't hate. Integrate! Acuity scheduling automates your appointments, cancellations, reminders & even payments with one(non-frustrating) click. No more back and fourth, missed meetings, no shows or multiple calendars to manage! Get your special 45-days free trial(typically 14 days).

Free Webinar: I'll be sharing how to leverage your creative side and use it as an advantage in business. Join me for my free webinar, How To Succeed In Business Marketing Yourself and Your Talent. Register here or text warrior to number 33444 to register and unleash your creative thinking to propel your business forward.
Guest Contact -
Gifts -
Are YOU a Creative Warrior? Find out and take the Creative Warrior Assessment for FREE (normally $10).
Christine has generously offered us her 32 daily doses of radical self-reflection ebook and an MP3 of her meditation album. Check out Creative Warriors Gifts Page where you can grab Christine's offer as well as check out the free gifts from previous guests.
Affiliate Links: Disclosure of Material Connection: Some of the links in the post above are "affiliate links". This means that if you click on the link and purchase the item, I will receive an affiliate commission. Regardless, I only recommend products and services I use personally and believe will add value to my readers. I am disclosing this in accordance with the Federal Trade Commission's 16 CFR, Part 255: "Guides Concerning the Use of Endorsements and Testimonials in Advertising."